The Slave
by Isaac Bashevis Singer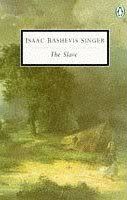 Jacob felt a stab in his heart every time he saw the past visibily resurrected. No doubt the living must go on living, but this very affirmation betrayed the dead. A song he had heard a wedding jester sing same to his mind: "What is life but a dance across graves?"
Sometimes chance brings us some of the most beautiful things in life. I picked up this novel on a whim, browsing the Classics shelf at the local charity shop it caught my eye. At £1.49 I thought it was worth a chance and decided to give it a go. I am so relieved that I did, because I now can't imagine not having read this novel.
The Slave (originally written in Yiddish, it was translated into English under the supervision of Isaac Singer) is the story of Jacob, an educated Jew from Josefov, Poland. Set in 17th century, after the massacre of his town he is sold to a farmer in the mountains. There Jacob finds love, but faces a continual struggle to reconcile his faith with the massacre of his people.
Singer, apparently, considers a beginning, middle and end to be an intrinsic part of any story. This novel certainly follows the formula, following Jacob throughout his life. Specifically, his new life. Following witnessing such a massacre and then exile in the mountains, Jacob is a changed man. For Singer, it is not important that the writer experiences Jacob pre-massacre. Although we are given glimpses into his past life, Singer makes it clear that the horrors Jacob has seen has effectively been his death and rebirth.
This formula makes it wonderfully easy for the reader to connect with and become attached to Jacob. He is sort of man that you find it hard to dislike; humble, learned, disapproving of those with loose morals, but non-judgemental, aware that he too has sinned in his life. Twice, at 3am or so, I was sobbing my eyes out and couldn't put the book down because I needed to know what happened to him.
The writing style is enjoyably flowing. Easy, but not simple. It is perfect for immersing the reader into the story.
I think what I enjoyed most about this book is the discussions Jacob has with himself and others about his faith. It is clear that at times he truly questions some key aspects. One could think that the novel is preachy, and is a self-insert of the author's own religious beliefs. However, it is not. The reader gets the genuine feeling that Jacob is reacting to what he has experienced and what he feels in his heart. It's terribly engaging and at times frustrating, because his faith separates him from what could be a happy life.
If one wanted to nitpick, it could be that the ending is over-sentimental, but I don't care. By that point I was so attached to Jacob and Sarah that I was in floods of tears.
Four point five out of five.
~
Happy New Year, everyone. :)
Excellent review, Jeni.

Romantic Vampire Lover on 1 January 2010, 04:20 said:

Bravo, as always. ;)

Pearl on 1 January 2010, 13:27 said:

:D Great job, I'll look into the book.

fffan on 20 April 2010, 06:51 said:

Yiddish? What is that, the national E-wok toungue?
Anyway. I think I might give this book a try.

Jeni on 22 April 2010, 11:32 said:

Yiddish? What is that, the national E-wok toungue?

I can't decide whether that is poor education or an attempt at humour.