Hi folks! It's been a while, but now that I've recovered from NaNoWriMo fatigue, I'm back with more content for the site. Not another sporking, at least not yet – I'm still having PTSD-like episodes regarding City of Bones.
No, this time I'm going to be talking about books that I actually like, and believe deserve a much larger exposure. Hence the name of the series.
And so, for my inaugural review, I'm going to be talking about a new Urban Fantasy novel by a somewhat-new author – The Shambling Guide to New York City, by Mur Lafferty.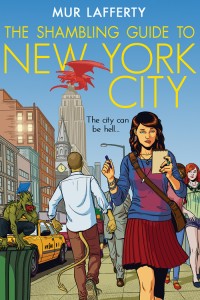 This is Ms. Lafferty's first traditionally published book. She's done a bit of self-publishing in the past, and pretty much all of it is available for free from podiobooks.com. She also hosts the podcast I Should Be Writing, where she discusses various writing-related topics and occasionally interviews professional writers at various stages of their careers. Oh, and she won the John W. Campbell Award for Best New Writer this year.
But enough about the writer – let's get to the Shambling Guide.
I wouldn't call myself a connoisseur of Urban Fantasy, but I've read quite a bit of it, and I feel I can safely say that The Shambling Guide is something different. The protagonist, Zoë Norris, isn't a private investigator or adventurer or anything like that. No, she works in publishing. Specifically, guide books. More specifically, she gets a job working at Underground Publishing, the publishers of the eponymous Shambling Guide.
See, Underground Publishing caters to a very particular clientele – "coterie", the preferred term for various mythological creatures including zombies, vampires, demons, elemental sprits, and out-of-work gods. Basically, anything and everything you can think of.
What makes this book even more unique in its genre is that the coterie aren't really the bad guys – most of them are just like normal folks. Sure, they might have certain dietary requirements or whatnot, but that's about it. They've even set up various ways to make sure their needs are met without endangering the human population.
This isn't to say that the humans are turned into the bad guys, though. While public works – the people who police the coterie, and yes they're exactly who you think they are – might tend towards a "shoot first" policy, I never got the impression that they were psychotic zealots or anything. The coterie can be dangerous, and public works are there to make sure they don't get out of control.
I won't go into too much detail about the plot. The early parts deal mostly with the difficulties Zoë faces working with coterie (like there being no sexual harassment laws because succubi and incubi are part of the workforce), and that things only get worse when some metaphorical demons from Zoë's recent past show up.
A sequel, Ghost Train to New Orleans, is scheduled to be released this coming March, and I for one am looking forward to it. If you're not sure, here's an extra incentive – Ms. Lafferty managed to convince her publisher to allow her to release The Shambling Guide audiobook as a free podcast. But it's only available in that format for a limited time – it's going away on the 15th of December.
So if you're a bit skeptical, go download the first few episodes. If you like it, go out and pick up a copy in your preferred format. Ms. Lafferty's worked hard to get to this point, and as an aspiring writer, I think she deserves to be a success. One quick warning – this book is for adults. There is a scene that is a bit graphic, though nothing worse than what you might get on HBO. If that doesn't scare you off, and you're looking for something different in your Urban Fantasy, then give The Shambling Guide to New York City a try.
There is a scene that is a bit graphic, though nothing worse than what you might get on HBO.

It's never too graphic if it's on HBO.
That said, this sounds interesting and fun in a quirky way, which makes me think Hayao Miyazaki is going to make a movie of this at some point.

Apep on 7 December 2013, 14:31 said:

Let me clarify – if you can handle HBO, you can handle this.

Although there's potentially some issues of consent involved. Minor spoilers: there's an incubus, and he uses his mojo on Zoë. But he gets stopped before anything serious can happen, and afterwards everyone else makes a point of telling him that what he did was NOT OKAY. So, yeah.

Anyway, yes it is fun and weird. Not sure if Miyazaki would be the right guy for it though – not quite enough whimsy, in my opinion.

Pryotra on 7 December 2013, 16:17 said:

afterwards everyone else makes a point of telling him that what he did was NOT OKAY.

I'm suddenly a lot more willing to give it a try.

Honestly, the fact that this isn't about a PI or something else is actually kind of interesting. It's different. Maybe I'll read it one of these days when I actually have something that resembles time.

Apep on 7 December 2013, 16:25 said:

Yeah. He tries to argue that she did give consent, but they tell him that consent under magically-induced arousal doesn't qualify.

Again, it's on iTunes for free in mostly single-chapter episodes until the 15th. Not that you shouldn't totally buy the book anyway.

Epke on 9 December 2013, 13:38 said:

Well, Apep (are you a yellow snake too?), you got me to read this and having finished it… it was a very good read.
Zoë has backbone, wit and a functioning memory/brain which is unimaginably refreshing. I think her oogling Arthur was the best bit because it showed how human and normal she is, which made her much more relatable than some other protagonists out there. Lafferty gets major kudos for actually showing and not telling, as well.
The setting was also well done, with a very Harry Potter-esque "lining amongst you" theme that was quite entertaining. The only problem, if it is one, is that the climax felt too short (though the airplane you-know-what with the blood? awesome) and could've used more descriptions.

I also retract my comment about Miyazaki: this is a bit too dark for his style, especially the bondage club and the people-eating.

Apep on 9 December 2013, 18:28 said:

Well, I'm glad to hear you enjoyed it.

Yeah, the climax is a bit rushed, but that's a problem with a lot of first books in a series – the whole world (or at least a lot of it) has to be set up, along with the major characters, and there has to be a plot. It can obviously be done, but there's a lot to juggle.

And Lafferty has mentioned many, many times in her podcast that she's not so good with descriptions, so that's an understandable complaint.

(And no, I am not a yellow snake. I don't understand why a being embodying darkness and chaos would be yellow, but that's the Ancient Egyptians' fault.)