Chapter 5:
In our last chapter, Romilly had just narrowly escaped from an evil fat suitor who had almost molested her. The key word here is almost, since we know that even in feminist fantasy like this, nothing truly bad can happen to a Mary Sue as blatant as this one, but it has to be close enough so the author can make Romilly wangst and wring us for every drop of sympathy possible. Which in my case is absolutely none at all.
Anyways, it's the morning after the Midsummer Festival, which is when Romilly's evvvil misogynistic father holds his great warehouse sale of animals, mostly hawks, horses and hounds. Romilly's governess gives her excuse from her lessons to go to this great warehouse sale because she's so amazing at her studies that one day's worth wouldn't be missed, and she goes down into the courtyard where the great animal warehouse sale is being held. The first thing she sees is, of course, related to her:
Davin was displaying the flight to a lure of one of the best-trained hawks, a great bird in whose training Romilly had played no small part; she stood watching in excitement till Davin spotted her. (Pg. 464-465)
In any case, the people of Scathfell are in the courtyard with them, and Davin asks Romilly to help sell the birds to them. Cathal, Darissa's husband, wants a large hawk so she can get out and have some exercise after the baby's born. Romilly agrees and tries to push the sale, but the evvvvil patriatch of the Scathfells, Dom Gareth, is being a bastard:
He snorted. "The women of my household have no need to hunt for meat for the pot; it they fly hawks, they do so only to have a reason to take air and exercise. And the MacAran still lets a great girl like you hunt with a verrin hawk? Disgraceful!"

Romilly bit back the protest on her lip—Aldaran might not approve of women flying hawks, but perhaps other men were not so stuffy and narrow-minded as he was himself—realizing that a saucy answer would only alienate a valued neighbour and customer of her father's. (Pg. 465-466)
Wait, whoever said he was not allowing Darissa to fly a hawk? Hell, he was only complaining that the hawk Romilly had picked out was too big. Look here, I can see the misogynistic undertones here and don't approve of them, but as Lenka can attest, falconry is called a sport, and with good reason. Considering that Darissa was just described in the last chapter as fat, heavy-footed, clumsy and often short of breath, it's not completely unreasonable that a more managable bird would be more suitable, if only because it would be lighter and she wouldn't have to use as much strength in sticking out her arm.
But of course, the only reason anyone would disagree with Romilly is that they are misogynists, whether they know it or not. Not that the elder Gareth isn't so—again, with the arm-twisting, but really, Romilly's thoughts are revealing. Anyone who disagrees with her, even on how, not what, is to be done, is an evil stuffy misogynist. At least to her credit she does realise, just for that one moment, that she has obligations and responsibilities beyond her personal self, which is more than what I can say for the book so far.
In any case, she leaves the hawks and meets up with Alderic where the horses are being displayed. He mentions that he'd like to trade in his horse for a better one at the show, but he doesn't have much money with him, and suggests that he could work for the MacAran for a while in order to pay off the difference. Romilly's reaction?
She blinked in surprise—she had begun to be sure that he was, in fact, the Hastur prince in disguise, and here he was offering to hire himself, a paid worker, to the MacAran in return for a horse-trade! (Pg. 466)
Uh, what? It's hardly surprising, is it? Alderic is poor and Irish. He wants a new horse, but cannot pay for one. The only honourable way to get one would be to work for it, wouldn't it? I mean, it makes sense. What's there to be surprised about?
Or was it just an excuse to have Romilly gaw and gape at him for no real reason?
Well, I'm sure we all can guess as to who our hidden prince is.
Right?
Riiiight?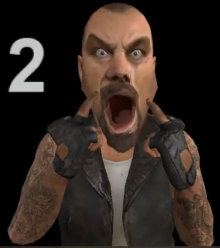 Yeah.
In any case, Romilly takes Alderic about the horses, and with a single glance she's able to tell everything about a horse, from their personalities to what work they're suited for to what they like to eat and every single quirk about them. From one glance. I'm not too surprised, though, a Mary Sue often has this ability as well, only it's usually applied to humans instead of animals. Some particularly outstanding examples:
"He is an ugly raw-boned brute, but if you look carefully about his gait, and the way he carries his tail, you will see that he is a fine strong horse, and spririted too. But he is no ride for a lady, nor for any soft-handed fellow who wants his horse to plod along at a gentle pace; he wants firm hands and good handling." (Pg. 467)

"I give you my word, the horse is good tempered enough, but he wants firm handling," she said, "I think perhaps he has a sense of humor—if a horse can laugh, I would swear I have seen him laugh at people who think they need only clamber on a horse and let him do all the work, and he had Darren off in two minutes; but my father can ride him without even a bridle, only a saddle and halter; because the MacAran knows how to make him, or any horse, behave."

"Aye, and I am told you have the same gift," he said. (Pg. 467)
Well, I suppose A Wizard Did It, so I can hardly complain. But it still leaves a bad taste in my mouth, and I'm sure it does in the mouths of the two crazy horse ladies on my f-list. There's some lip-service about Romilly having worked in the stables ever since she was old enough to enter them, but I'm sure it takes time to know a single horse well, let alone all of them.
The conversation turns to Alderic's family, and it's soapbox time on Why Arranged Marriages Are Evil For Everyone:
"I have hardly had speech with my father half a dozen times since I was out of short dresses. My mother was wedded to him in a dynastic marriage, and there was little love to lose between them; I doubt they have said a civil word to one another since my sister was conceived, and now they dwell in separate houses and meet formally a few times a year, no more. My father is a kindly man, I suppose, but I think he cannot look on my face without seeing my mother's features, and so he has always been ill at ease with me. Even as a babe I called him sir, and have hardly spoken with him since I was grown to man's size." (Pg. 468)
Again, I understand the whole anti-arranged marriage stance, and can mostly agree with it. There are bound to be maritial problems in such an arrangement. That being said, however, does not automatically doom it to failure. People pushed into such situations can work out their problems and differences, get to know each other and while it might not be really romantic love that's pushed to us, still can be thought of as an accommodation.
And of course, keeping in mind the setting, I'd expect people such as Romilly to have expected to be put into an arranged marriage. They have priviliges, and with those priviliges come responsibilities—such as using such unions to seal political contracts and enhance goodwill. It's not just about the people in the marriage in this case, it's also about the people governed, and if a civil war breaks out just because a spoilt princess runs away from home to be with the pauper she loves…well, it's all right that her family's disgraced, thousands of people die in a stupid feud, probably leading to even more problems such as famine since people were called away from the fields to fight, and trade breakdowns and the likes…
But it's all right in the end because the princess has tru wuv. Oh, and the pauper turns out to be the exiled prince of some faraway kingdom.
Let me just have some more of those pills, will you?
Anyways, Romilly works the rest of the day, helping the men on the sale fields with the horses, hawks and hounds, and of course outperforming them all. The day passes and evening comes, and Romilly goes back into the castle proper for her dinner with the family. This is when, of course, her evil misogynistic father explains that she's to be married to Dom Garris:
"No fear of that," said the MacAran, smiling, "other news I have too. Romilly, my dear, you know you are of an age to be married; I had not thought I would have such a good offer for you, but Dom Garris of Scathfell has asked me for your hand in marriage, and I have answered him; yes."

Romilly felt as if an ice-cold hand was closing about her throat. (Pg. 470)
Of course, Romilly's horrified. She thought she was going to be married off to Cinhil, but apparently he's too young to be married off, and why marry the younger son when one can have the heir? Anyways, we get some of Romilly's reactions:
"Father, I hate him," she said, pleading, "please, don't make me marry him!" (Pg. 470)

The MacAran gestures the younger girl to silence.

"Romy," he said gravely, "Marriage is not a matter of whim. I have chosen a good young man for you—"

"So young is he not," she flared, "he has buried three wives, and all of them have died in childbirth!" (Pg. 471)

She thought of Darissa, not much older than herself, swollen and shapeless with bearing children. Would she be like that, and would those children have been fathered by Dom Garris, with his whining voice and damp flabby hands? The thought made her flesh crawl. (Pg. 471)

"So while I thought you were having a sale of horses and hawks," she said bitterly, "you were also making a sale of your daughters! Tell me, Father, did Dom Garris give a good price?"

She knew by the unlovely flush that spread over her father's face that she had caught him on the raw. He said, "I'll hear none of your impertinence, my pert young mistress!"

"I doubt it not," she flung back at him, "you would rather trade in hawks and horses because they cannot talk back—and you can give them what fate you will!" (Pg. 471)
Uh, didn't she do the same with her stupid bird? Force it into her idea of what it should be and hammer it into its fate? Just thinking. More complaining on Romilly's part:
"Oh, Mother," Romilly wailed, crumpling and throwing her head into Luciella's lap, "do I have to marry that—that—" words almost failed her, but finally she came out with, "that great slug? He is like something with a dozen legs that crawled out from under a piece of rotten wood!" (Pg. 471)

But when she countered her father's rage with the thought of the alternatve, confronting Dom Garris and the memory of lust in his eyes, she realised that she would rather that her father beat her every day for a year than that he should deliver her over to Dom Garris. Didn't he know what the man was like? And then, with her heart sinking, she realized that the MacAran was a man and would never have seen hat (no error here, either. Copyeditor clearly not doing his or her job) side of Garris of Aldaran; that Dom Garris showed only to a woman he desired.

If he touches me, I will vomit, she thought, and then she knew that whatever her father's anger, she must make a final appeal to him. (Pg. 472)
So Romilly goes out to find her father, and chances upon him in the stables directing the stablehands hither and tither. She presses him to reconsider, weeping and wailing all the while, and while her father appears to be reasonable and understanding he can't go back on his word without ruining the carefully-built reputation of his whole ancestral line. Of course, this isn't important to Romilly, but then he continues to explain that he and her mother know better than her at choosing a suitable husband and that she had never expressed her preference in men to him, so the situation's her own fault. Romilly still doesn't agree, but she knows that there's nothing else she can do, and so she's to be married off at harvest time, in about a season.
It's still not over, though. It's not long before a messenger comes to the castle with a gift:
"To the MacAran of Falconsward and to my affinanced wife Romilly, greeting from Gareth-Regis Aldaran at Scathfell. Your daughter informed me that she flies a verrin hawk, which is understandable in the daughter of the finest hawk-trainer in these hills, but it would be unseemly for the wife of Aldaran's Heir. Therefore I take the liberty of sending her two fine ladybirds which will fittingly adorn the most beautiful wrist in all of Kilghard Hills, so that she need not fly a man's hawk." (Pg. 477)
Of course, Romilly's all like "no one shall tear me from my beloved Preciosa! Rawr!":
She made up her mind, firmly, whatever they said, she would never be argued or bullied into giving up Preciosa! The bond between them was too strong for that. (Pg. 478)
One thing I'd like to ask: Why was this book published? Yes, really, I mean it. Why the hell was it published in the state that it is now? I can excuse a poor story, but numerous spelling and grammatical errors in the final product I hold on paper before my hands—just what the hell were the author and copyeditor doing? Or was the great MZB so great and wonderful by that point that she had no need of this thing known as "editing" and "proofreading"?
Secondly, this so-called bond is hardly believable. Not just because of the time factor or the lack of adequate portrayal, but also because the relationship is completely one-sided and her so-called training has been all junk from the start, all the way from breaking the hawk with rotting meat, flying it with a lure made of string whirled about one's head, and an inability to decide if the bird is even a hawk or falcon. It gets worse, though. Apparently, the great MZB thinks smaller hawks are stupider:
While she was first flying the little hawks—with a guilty thought that she was being disloyal to her beloved Preciosa—she reached out for contact, the strong bond between hawk and flyer. But the tiny birds gave only a faint sense of confusion, exhilration; there was no close emotion, no sense of rapport and union—the smaller hawks were too lowly organized to have the capacity for laran. She knew the cagebirds had no such abilities—she had once or twice tried to communicate with them—in fact, "the mind of a cagebird" was a byword for a stupid woman! Flying the small hawks was dull; she could watch them fly, and they were beautiful indeed, but there was none of the excitement, the sense of rapport and completion, she felt with Preciosa. She flew them dutifully every day for exercise, but it was always with relief that she hooded them again with the beautifully worked hoods and cast off Preciosa into the sky, climbing the sky with her in an ecstasy of flight and soaring freedom. (Pg. 478)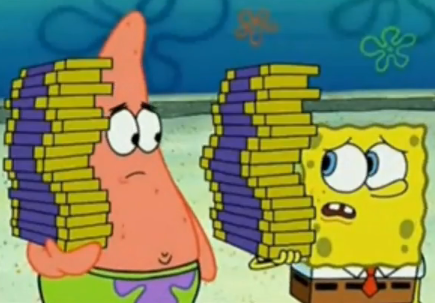 Lenka:
"there is so much wrong with that i cannot even begin to explain
excuse my French, but thats fucking retarded
i am really glad i did not get past the first few pages
i dont know what i would have done to the book
ill be right back, i need to step outside for a moment"
And as Lenka asked: "Why does this woman hate her gender so much?" Everything vaguely feminine in the traditional sense is rubbished completely and utterly, even the birds that they're supposed to fly, and according to the novel the only way to have power or even intelligence is to be exactly like men—wear men's clothing, act like men, fly the same birds they fly, do all their activities. The point is debatable, but this isn't going to turn into one of those discussions. My point here is that the way the author is going about making her point just repulses me as a thinking reader, and frankly is self-defeating. Most soapboxes are, really.
In any case, preparations for the marriage go under way, and they are all so horribly misogynistic (did you expect otherwise?). Her evvvil father stops her ciphering lessons, whatever those are, and instead she's to learn how to properly manage a household and all the servants in it and learn the jobs they do, so she can know whether they'ye putting their backs to it or being lazy bastards. Of course, there're the obligatory lessons on how to raise a child, which Romilly explicitly mentions are pointless, since there're more than enough nursemaids to take care of her future children while she does other things:
Romilly could not imagine why, if there were skilled nurses and midwives there, and Darissa with two—no, three children by now—she should have to know how to do all this herself, even before she had any children, but Luciella insisted that it was part of a young wife's proper knowledge. (Pg. 479)
Yeah, tell that to the latchkey kids. Or the parents who wonder and regret that their children seem more attached to the maid than themselves.
More time passes, and one day Alderic comes up to Romilly and tells her that Preciosa is pining for her. Yes, really.
"But she does not fly well for me," he told her one evening, "I think she is pining for you, Romilly."

"And I am neglecting her," Romilly said, with a pang of guilt. She had herself formed the tie with this wild thing; now she could not betray it. She resolved that tomorrow, no matter what duties Luciella laid on her, she would find some time for a ride, and to take out the hawk. (Pg. 480)
No. Not believing. Not enough time to justify development of relationship, and it basically ends up smacking of one of those poorly thought-out romance novels where the male and female leads bump into each other and fall into love at first sight. In short, I say: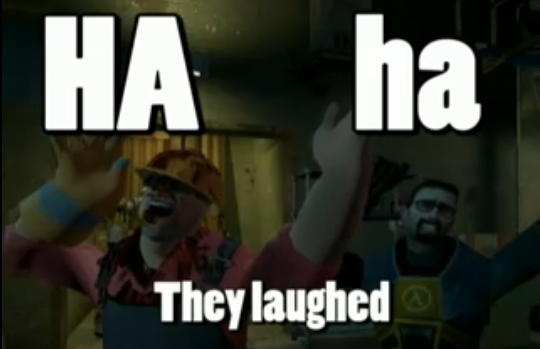 But anyways, the next day she flies through her chores, and when she's done she goes out to fly her stupid Preciosa. Well, it has to be pretty stupid, since all it does is follow Romilly's orders like a mindless drone. In any case, her evvvvil father comes over with Darren and orders her to stop because it's not ladylike (I am already so sick of this phrase and its iterations, but I guess we'll be seeing a lot more of it before the day is out), and orders Darren to fly the bird instead. In any case, Romilly looks at her birds again, and what we get is a whole pile of fail:
Her eyes burning, Romilly turned aside to take up one of the tiny, useless hawks that had been Dom Garris' gift. At that moment she hated them, the little half-brained, stupid things. Beautiful as they were, elegantly trapped, they were only ornaments, pretty meaningless jewels, not real hawks at all, no more than one of Rael's carven toys! But it was not their fault, poor silly little things, that they were not Preciosa. Her heart yearned over Preciosa, perched unsteadily on Darren's awkward wrist. (Pg. 482-483)
Because it's so totally not a euphemism for women who're involved in domestic matters, by choice or otherwise. Really. Just replace "hawk" with "woman" and see the results. Again, it's the same message: "women who don't follow my exact philosophy are stupid and useless, only there to look pretty!"
And I'd like you to go out and tell all the falconers who fly merlins and sparrowhawks. Go out and tell them how their birds are small, and as a result stupid, useless and not real birds of prey. I'm sure you can imagine their reaction, can't you?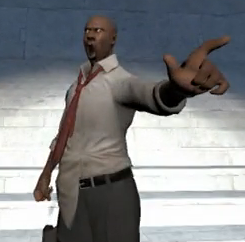 "TINY BIRDS ARE NOT USELESS PEOPLE WHO SAY THEY ARE ARE
lemme tell you, a sparrowhawk is a pretty tough little motherfucker that will END YOU the secnd it gets a neurotic tick – my mentor has a scar on his cheek and a piece of a fucking ear missing because his female spar decided she is not interested in what was on his fist and decided to go for his face instead – and not to mentioned this bird about the size of an average pigeon will bring down an ad
adult pheasant
HOW USELESS IS THAT I ASK
can you imagine how many times the pheasant outweighs the spar?
MANY
and dont get me started on merlins"
And finally, it's very indicative of the sort of relationship Romilly has with those so-called animals she mind-bonds with—it's all about what they can do for her and not the other way round. Frankly, I hate the "best friends forever" animal companion shit, only because it's never that way. There's only one instance of this trope that I've found satisfactory, and a cookie to whoever who can guess what it is.
In any case, Romilly urges her stupid bird to fly away because "one of us at least should be free", and the bird does so obediently. What, you expected more of a mindless drone? Of course, EVIL MISOGYNISTIC FATHER is enraged, blames Darren for losing the hawk and starts whipping him with his riding crop. Romilly comes forward and claims responsibility, and there's an argument and he beats her as well:
"It's not Darren's fault! I lost her, I let her go—I cannot be free, I must be chained inside a house and robbed of my hawk, you damned tyrant, but I will not have Preciosa chained too! I bade her go with me laran—with my laran—you have given Ruyven away with your tyranny, you have made Darren afraid of you, but I am not afraid of you, and at least you will never mistreat my hawk again, my hawk, mine—" and she burst into wild crying. Her father checked a moment as the first blow fell on her shoulders, but as he heard the flood of abuse, as the forbidden words Ryuven and laran fell on his ears, his face turned furious black, congested with wrath and he raised the riding-crop and struck her hard. He raised it again and again; Romilly shuddered with the pain, and shrieked at him, incoherently, harder than ever; her father slid from his horse and stood over her, beating her about the back and shoulders with the crop until finally Darren flung his arms around his father, shouting and yelling, and then another voice; Dom Alderic, restraining her father with his strong arms. (Pg. 484-485)
This is supposed to be a powerful scene. It's supposed to be the turning point of a character. I think it says a lot that when he's whipping her, all I can think of is: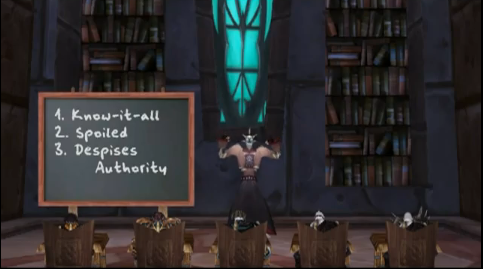 2. Spoiled
"Second, you must be obsessed with your own rights and freedoms, have a sense of undeserved entitlement, and suffer from a disease called 'I-can-do-whatever-the-f***-I-want-becau
se-I'm-convinced-that-there're-absolutely-no-consequences-for-any-of-my-actions'."
Whipping her makes him a tyrant? Oh, hypocritical much, when you were STARVING YOUR HAWK TO DEATH AND REPEATEDLY USING YOUR MIND MAGIC TO PSYCHO IT INTO LOVING YOU? WAS THAT IT? WHAT ARE YOU, THEN?
Ahem.
Anyways, Alderic manages to separate them, and Romilly runs all the way home, where she whines some more:
They blame me, Romilly thought, they all blame me because I was beaten…

And now there is no hope for me. Preciosa is gone. My father cares more to be on good terms with Aldaran than he cares for me. He will beat Darren ruthlessly into shape because Darren does not have my gifts, but he will not let me be what I am, nor Darren what he is; he cares nothing for what we are, but only for what he would have us be. (Pg. 486)
…Excuse me while I roll my eyes. In any case, it's run-away-from-home-and-arranged-marriage time! Romilly wakes up in the middle of the night, when all the castle's asleep—
—Wait a minute. I might never have truly liked Tad Williams' Memory, Sorrow and Thorn, but one of the things he gets right is how a castle works. It's a process, and never really sleeps. There're always people around, given the sheer number of folks in one, and it's very hard to slip around the main passages unnoticed. You'd at least imagine the MacAran would have sentries on guard.
Oh, and what happened to Romilly's injuries? You know, the huge, bloody gashes on her back from her father's whipping? Oh wait, since those've been milked for sympathy, they can now conveniently disappear. In any case, she sneaks into Ruyven's room, pilfers some men's clothes, her falconing glove and a dagger, and she cuts her hair:
At the last, before she slid her dagger into its sheath, she cut her hair short to the nape of her neck, and as she stole outside, thrust the braid deep into the midden, so they would not find it. She had locked Ryuven's door again, and they would never think to look among his old clothes and count the shirts. She would carry her habit with her, so they would be looking for a girl with long hair in plain old clothes. (Pg. 487)
Ah, if only it were so easy as cutting your hair short and wearing men's clothing. I must have been mistaken thinking all those ladies with short hair and t-shirts and jeans on campus were actually, y'know, women. Blarg.
Then she goes into the kitchens and gets completely perishable foods, fresh bread, grain cakes and fresh nuts. Not even a water bottle. I hope she dies of thirst and exposure. Goodness, even Nature Sue was better than that. Next stop is the stables, where she steals a nondescript horse and rides out in the night unstopped by anyone. Goodness, the MacAran is amazingly trusting to not have posted a single sentry in these uncertain times. Anyways, as she rides away, there's one last thought:
But then the memory of Darren's face as she gave him the hawk, of her father's rage, of Ruyven's set, despairing eyes the last time she had seen him, before he ran away from Nevarsin…No, Father will have us what he wishes, not what we are. The memory of Dom Garris handling her rudely at midsummer, the thought of how he would behave when she was turned over to him, his wife, his property to do with as he would—

She set her face like iron. Had there been anyone to see, at that moment, they would have marked; she was very like her father. She rode away from Falconsward without once looking back. (Pg. 488-489)
Retch
Chapter ends, and with it my pain.
Keep it comin'…

You are SO brave.

I'm going to write perfectly friendly arranged marriages, just to spite the "Anything from before the Industrial Age is terrible!" attitude… Frankly, I wouldn't mind my dad giving me several thousand dollars to start a new household, someone teaching me how to take care of babies and manage money, and having a pool of men to pick from (because MANY marriages gave the woman some shopping freedom, damn!) that are socially-certified to not be lazy f4ck-ups with no job, responsibility or ambition.

But that's just me.

WiseWillow on 16 February 2010, 14:52 said:

Is it bad that I agree with Proserpina on the arranged marriages thing? Also, pretty feminine clothes are pretty and feminine. Apparently I am evul. You too, Proserpina. We must beware Romilly's wrath, for we are as clever as cage birds, obviously.

Nate Winchester on 16 February 2010, 15:29 said:

I wish you would talk to your crazy horse ladies. I'm getting tired of doing all the work. ;-)

Anyways, it's the morning after the Midsummer Festival, which is when Romilly's evvvil misogynistic father holds his great warehouse sale of animals, mostly hawks, horses and hounds. Romilly's governess gives her excuse from her lessons to go to this great warehouse sale because she's so amazing at her studies that one day's worth wouldn't be missed, and she goes down into the courtyard where the great animal warehouse sale is being held. The first thing she sees is, of course, related to her:

Oh dear jabootu. Suddenly I'm grateful for my father dragging me to all those horse and livestock auctions so I could realize just how stupid this is.

Wait, whoever said he was not allowing Darissa to fly a hawk? Hell, he was only complaining that the hawk Romilly had picked out was too big. Look here, I can see the misogynistic undertones here and don't approve of them, but as Lenka can attest, falconry is called a sport, and with good reason.

Except, would it really be a "sport" in this world? Seems to me that falconry would actually be of use in pre-industrial societies. Being able to acquire food without dipping into your own livestock um – stock – would be advantageous.

In any case, Romilly takes Alderic about the horses, and with a single glance she's able to tell everything about a horse, from their personalities to what work they're suited for to what they like to eat and every single quirk about them. From one glance. I'm not too surprised, though, a Mary Sue often has this ability as well, only it's usually applied to humans instead of animals.

What's even worse is everything in the book has demonstrated she knows jack *** about horses. Talk about your informed attributes.

"So while I thought you were having a sale of horses and hawks," she said bitterly, "you were also making a sale of your daughters! Tell me, Father, did Dom Garris give a good price?"
She knew by the unlovely flush that spread over her father's face that she had caught him on the raw. He said, "I'll hear none of your impertinence, my pert young mistress!"

Why is this a shock? Most arranged marriage societies have bride prices and dowries. It was designed to help sustain a woman should something happen to her intended husband before marriage. Did MFB do ANY research?

Therefore I take the liberty of sending her two fine ladybirds which will fittingly adorn the most beautiful wrist in all of Kilghard Hills, so that she need not fly a man's hawk." (Pg. 477)

Hasn't Lenka already pointed out that with birds (like many animals) the females are typically bigger than males?

Anonymous45 on 16 February 2010, 19:14 said:

I don't understand why Romilly's knowledge of the horses being sold is such an issue. If she lives in a society that uses them, if she clearly regularly spends time with them, and likely knows them since they were born, wouldn't she get to know them?
You know, some people have these things called "very good memory", "experience" and "knowing an animal in person".

IMHO This review has turned into a mocking of everything Romilly does and Romilly's worldview.
This book is clearly written from Romilly's point of view (Or the author's perspective). People tend to like, perceive the world in different ways you know. They might have different perspectives on same things. Because they might have different values/worldviews/convictions. And everything gets filtered through them.
So maybe this book is about how Romilly sees her world—that she is victimized. She sees monsters everywhere. Maybe she suffers from paranoia or whatever. Maybe she has valid reasons that are not being mentioned or lccorp2 didn't notice. Thing is she(/author) has her beliefs. And maybe they should be respected as such. Maybe they offend you. You know what, big deal. There most certainly are people out there who will disagree with your beliefs. Let it go. Move on.

Nate Winchester on 16 February 2010, 19:24 said:

I don't understand why Romilly's knowledge of the horses being sold is such an issue. If she lives in a society that uses them, if she clearly regularly spends time with them, and likely knows them since they were born, wouldn't she get to know them?
You know, some people have these things called "very good memory", "experience" and "knowing an animal in person".

She certainly should know a lot of info (as should just about anyone else in the time). Too bad she doesn't demonstrate it except when the plot tells us she does.

Chant on 16 February 2010, 21:58 said:

"But he is no ride for a lady, nor for any soft-handed fellow who wants his horse to plod along at a gentle pace; he wants firm hands and good handling." (Pg. 467)

Wait, Romilly said this? And she was the one who was just getting offended that someone would suggest that women couldn't fly bigger hawks?

Also, I don't get why MZB needs to emphasize the whole arranged-marriage-is-bad theme…. Isn't arranged marriage not that much of a problem anymore in most countries? I mean, I'm sure it's still around, but is Romilly's whining about it really going to help anything??

Danielle on 16 February 2010, 22:43 said:

And I quote: "If I could arrange a marriage for you, Danielle, it would be with him." —My mom

My mom has spoken this sentence only a few times, and each time in reference to a guy at our church. And here's the kicker: I almost always liked that guy on some level. In one case, I was getting over a crush on him. He wasn't right for me then and I don't think he is now, but Mom and I agree that if he grows up a little, we might make a good couple.

Do I hate my mom for half-joking about an arranged marriage between me and a cute, funny, sweet guy who shares my faith? Absolutely not. My mom has lived a lot longer than I have, and she and my dad have been married almost twenty-one years, so naturally she knows more about men than I do. And while I may not necessarily want an arranged marriage, I do seek my mom's advice on guys.

While Romilly's dad may not have the same good judgement as my mom, Romilly should at least consider that McAren is an adult and as such he might know more than she does.

lccorp2 on 17 February 2010, 02:53 said:

@Nate: This is regrettably true. Later on, apparently horses do not need to drink, a single grain cake is enough to last it for a day, and later on apparently it can graze frozen-over grass. It eventually vanishes altogether when not needed.

Both crazy horse ladies whom I take my references from—a seventeen-year old and a middle-aged lady who's worked with horses for twenty-odd years—agree that she knows jack squat, which is why the "I can tell everything about one with my majeek" premise is laughable.

So yes, I am mocking everything about Romilly, simply because it deserves to be mocked. Some of the message I can agree with, but the delivery is so stupid and hackneyed that it has the exact opposite effect from the intended payload, and a good portion of the views expressed here and later (eg. female supermacism) are just plain retarded.

The storytelling is poor, the characters are caricatures, and apparently a world-famous author can't be bothered to proofread, so we get numerous missing or mispelt words, capitalisations after breaks in speech, completely random commas and triple quotation marks.

A quote on the importance of versimilitude:

"The only convincing workarounds are the ones that the characters have to… well.. work for, and then live with the consequences. In other words, solutions work which are part of the plot, rather than something the author pulled out of their posterior.

You can get into a castle by carefully infiltrating the workforce. You can kill an adept warrior by stalking him for ages, then finally shooting him in the back. Your peasants can overcome a field army by lulling it into a false sense of security over several months, welcoming the soldiers into their homes, then – on the signal – falling on all those homesick young – not individually evil – men in their sleep.

And, that's the thing. If you – the novelist – cheat, then you're saying victory is easy, doesn't have consequences, doesn't leave a nasty taste in your mouth.

You're saying that the world's victims deserve their fate, since if they would just have faith, they could throw off their shackles, overcome even the most hardened death squads.

You're also saying that those people who, with grim purpose, liberate themselves or others, have needlessly got their hands dirty: "You can't build a civil society on a bloody revolution."

If so, you are feeding a culture of entitlement and magical thinking. "Have faith, and it will be so."

In short, you are a liar."

ProserpinaFC on 17 February 2010, 09:41 said:

This is also gratingly annoying for the ol' "Character is born and raised in this society but doesn't expect social norms to happen to her."

I'm glad that the author atleast admitted that Romilly had not shown proper interest in men, but she probably interprets this as "Romilly's a smart girl whose never bothered with childish crushes."

You can't BE at that age, not know what you should be doing, and expect me to respect you as a protagonist. (Let alone expect me to dislike your parents.) It would be like a teenager today, coasting through their senior year, then shocked to learn that their parents filled out an application to the local community college for them.

"You didn't seem to be paying attention and we didn't want you to end up in a dead-end job."

"But that school is cheap! Losers go there! I wanna go to Harvard!"

"Harvard?! Its three days before you graduate! Did you fill out the paperwork? FAFSA?"

"… What's FAFSA?"

I would be alot more understanding to Romilly's "plight" if she had been following every protocol, minding every manner, crossing every T and doting every I and her father went back on his word and "sold her off" to a newcomer who offered more money than the young guy she had been setting up.

PS: "He said, 'I'll hear none of your im*pert*inence, my pert young mistress!'"

LOL

Soma on 17 February 2010, 10:32 said:

I kept being reminded of an article I read about Narcissist Feminism as I read through the chapters you've gone through so far. It really does seem to cover Romilly's self obsession with regards to her rights over the rights or wants/needs of any who don't agree with her. [http://thehathorlegacy.com/narcissist-feminism/ is the link I had in mind in particular.]

I've not read any MZB work but having read alot of fantasy in general, and from your excerpts, I doubt I'd be much impressed if she is this fond of preaching at the reader. Fantasy as an excuse for Mary Sue/Gary Stu characters gets pretty tiring fast without soap-boxes being involved.

Looking forward to more in any case!

Tolly on 19 February 2010, 09:42 said:

And now I remember why I've always loathed MZB's works. ALL her heroines are like this.

Dammit, feminist authors out there, it's actually possible for a character to be feminist and feminine at the same time! Feminist does NOT equal preachy little pain in the butt!

Danielle on 19 February 2010, 15:14 said:

@ Soma,

I read that article you mentioned. Interesting, and I think it applies to Romilly tenfold.

After reading some of the other articles, however, I felt like they were leaving out something important to the cause of feminism: Men and women in a partnership.

One thing that bugs me about some feminist authors (and we cast a withering glare at MZB) is that they portray feminism as women being equal with or better than men, and in a supposedly equal male-female relationship, women should get to be in charge because, well, we're women! But what about the men? Feminism shouldn't just benefit women; otherwise, the men have nothing to gain from supporting it. I believe that men and women are so different because we're supposed to work together, each contributing our own stregnths to make the world a better place.

My guess is that Romilly will end up with a guy who she bosses around and he just sits there, nodding like a bobblehead and saying "You're so hot and strong and awesome. I don't know what I did to deserve you." In reality, that relationship would resemble a car crash in slow motion, but MZB and other "feminist" authors portray it as How It's Supposed to Be.

Zombie on 16 December 2010, 01:56 said:

"Yeah, tell that to the latchkey kids. Or the parents who wonder and regret that their children seem more attached to the maid than themselves."

I'm not surprised that she'd pass her kids off to someone else, though. Even with her hawk/falcon/bird and the horse, she doesn't take care of them, she has other people do it for her and then uses them when she wants or when it's convenient for her. I can imagine that she wouldn't give a fig about her children (assuming she had any) and only caring for them when she needs some unconditional love.

Fireshark on 7 February 2012, 14:50 said:

@Italian Viagra spam

FFFFFFFFFUUUUUUUUU-