Chapter 18:
So it's the morning after the battle, and Romilly has just woken up. Immediately, she launches into a psuedo-philosophical musing over how meaningless Clea's death was because she got caught up in a war that was none of her making, and how EVVVVIL EVIL KEENG and EVIL CHANCELLOR are:
And yet, troubled, she remembered how she had met with Lyondri Hastur. Lyondri's cruelties were many, while Carolin at least seemed to feel that it was his duty to serve and protect those who lived in the lands he had been born to reign over.

Carolin is like a horse…with her love of Sunstar and of the other horses, it never occurred to Romilly that she was being offensive to the king…while Rakhal and Lyondri are like banshees who prey on the living. (Pg. 724)
…Wut. We've even seen EVIL CHANCELLOR, and he actually seemed like a pretty decent guy. Romilly is behaving just like Eragon in this aspect—she has no views or thoughts of her own when it comes to EVIL KEENG, and blindly aceepts what everyone else tells her, which is completely incongruous with the rest of her supposed personality.
Oh, wait, there's more:
Lyondri did not wish—she knew this from her brief contact with him—to be only Rakhal's executioner. Tell Jandria, he had said, that I am not the monster she thinks me. Yet, he believed that this was his only road to power, and therefore he was as guilty as Rakhal. (Pg. 726)
Wait, when did she surmise that that was the way EVIL CHANCELLOR thought? I don't remember him thinking "this is the only way to power." Again, I want to stress that we've never seen EVIL KING or EVIL CHANCELLOR do or directly order anything evil to be done; everything's been second-hand. And what was that comparing banshee-birds to EVIL KING and EVIL CHANCELLOR to prove how evil they are? But I thought she had a bloody One-With-Nature moment back there with them early on in the novel! It's almost as if Romilly has been constructed out of sheer necessity and behaves in order to keep the plot going and the readers arm-twisted—
—Oh. RIGHT. Stupid me. It's just like claiming that horses have no memory.
So she's tending to her last bloody bird when who should appear out of nowhere but Alderic! Why, does he explain why he's here? Apparently not, for the first thing he does is to explain to Romilly all that's been going on at her home ever since she left in one gigantic infodump. I'm going to summarise pages upon pages and just say that both Romilly's father and the evil fat suitor Dom Garris were so overawed by her act of running away from home that they did a 180-degree turn and became open-minded, non-misogynistic and Dom Garris was eventually married to Mallina, and he's now a great guy. Oh, and Alderic isn't the REEL KEENG's son. Instead, he's Orain's son.
And Romilly is shocked that so many people could have changed just because she ran away from home and wonders if she was wrong about them.
She could not imagine how anyone could tolerate that man, but Mallina had always been something of a fool, perhaps they deserved one another. "Anyhow, Mallina would be the kind of docile and obedient wife that Garris wanted." (Pg 728)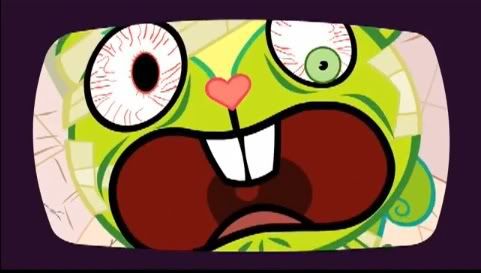 Does it change anything? Unfortunately, no. Let's draw an example from a book I once read. The antagonist was an Evil Queen, and started out pretty okay. Unfortunately, this antagonist's behaviour rapidly deteroiated into mass stupidity on the levels worthy of bad comic book villians, making me grit my teeth. Fair enough. Then at the end, it was revealed that she wasn't a human at all, but rather an Evil Tree, and somehow (according to the author interviews later on) this was supposed to be hugely original and inventive—therefore making the Evil Queen an interesting character.
Uh, no. That's missing the point. At the end of the day, we follow the Duck Rule: if it looks like a duck, sounds like a duck, feels like a duck and acts like a duck in every way, then for all intents and purposes it IS a duck. It might be pod-duck from outer space, but there's no practical difference.
The same goes for here. Romilly wondering if she'd been wrong about all these people doesn't do jack squat for the story or her characterisation. Maybe if she wondered that BEFORE she'd run off, or maybe if she'd to suffer any consequences because of her fuck-ups, or actually go and reconcile with these people, it'd actually be interesting. Here? It's just a throwaway line tacked onto a huge paragraph of how awesome she is for making all these small-minded, misogynist bastards change.
Nothing's changed from the story, and thus it might as well never have been mentioned. What makes this about-turn even worse is that it comes out of the blue; there's been no perceptible character development or change in Romilly whatsoever. She started out as a whiny brat, and she's still a whiny brat. So much for bildungsroman. But to get back to the point, the whole about-turn feels tacked-on, as if the editor (if there was even one, because the typos in this book are seriously horrendous) said: "all right, let's not rock the boat too much, you need to appease your more moderate audience" and hence this got tacked on in the second last chapter. It doesn't feel natural at all, much like an insincere apology.
Bah.
Anyways, moving on, we get this from her:
She did not look at him. There had been a time, indeed, when she had thought she would she would willingly have married this man. But so much had happened to her in the year since then. She had desired Orain himself, even though he had not wanted her. And Ranald…what had happened with Ranald was not the sort of thing which led to a marriage, nor would a Drylands lord be likely to marry a mountain Swordswoman; indeed, she did not think she would marry him if he asked, and there was no reason he should. Their bodies had accepted one another joyfully, but that was under unusual conditions; she would have accepted any man she supposed, who had come to her and offered surcease from what was so tumultous within her. But apart from that, they knew little of one another. And if Alderic knew she was not the virtuous maiden she had been a [sic] Falconsward, would he even want her? (Pg. 730)
You know, it's interesting that Lenka pointed this out to me a little while ago. Part of feminism is supposed to be that you're not supposed to let what men—or hell, other people—think affect your life. That you shouldn't be seeking other people's approval or let their beliefs dictate how you live your life. Yet she keeps on going to everyone, seeking praise from them and lambasting them when they don't give it to her, and here this is quite a direct contradiction to the whole lot: so what if she isn't a virgin? Why does she care what Alderic thinks?
Blow hot or blow cold, please.
So Alderic goes to see Orain, and it's announced that the REEL KEENG's armies are going to march on the EVIL KEENG's. So they do so, and something happens:
Rakhal's armies seemed shrunken in size, and off to the north she saw another body of men and horses. Were they they coming to Rakhal's aid, now that the first battle had thinned his ranks? No; for they were riding away from Rakhal's main army as swiftly as they could. And Carolin's thoughts were jubiliant.

Rakhal's men are deserting him,now they know what he is…they have no more stomach I for this kind of warfare…(Pg. 733)
Uh, so why are they deserting now? It's not as if this is the first time the EVIL KEENG's minions have been using this shit. They should have known about it a long time ago. Why the sudden decision to go now? So EVIL KEENG's armies are entrenched upon a hill, and they can't fight it because they have an easily defended position.
So, what do they do? Why, summon up a mighty illusion to scatter the army, of course. Incoming mighty quote of fail:
Horsemen were drawn up at the perimeter of his army, surrounding foot-soldiers and bowmen, and at the center, a number of great wagons, with the acrid smell she knew now to be the chemical small of clingfire. They ringed the brow of the little hill completely while they took their stand there, it would be impossible to breach their defenses.

But that is precisely what we must do, it was Alderic's thought, and he rode the company of two dozen men, headed by the small band of leronyn, breakneck toward the hill; suddenly stopped them.

Now!

And suddenly it seemed to Romilly that a great cloud of dust and fire moved on the hill, with a racing and a pounding of hooves, and cries…what soldiers are these? And then she knew that she had seen these men, the men who had deserted Rakhal and were riding away…it was like a great mirror, as if the image of his separate army were thrown straight at Rakhal's men…for a little they held firm, while a cloud of arrows came flying down toward the close-clustered band of soldiers and leronyn at the foot of the hill…but they were shooting short, at the image of the racing soldiers…

join with us! In the name of the Gods, everyone who has laran, join with us to hold this image…on and on the racing cloud of dust, in which Romilly could now see indistinct shapes, horses' heads like great grey skulls, the burning visages of skeletons, glowing with devil-fire inside the hidden cloud of dust and sorcery… (Pg. 735)
And of course it works. EVIL KEENG's men are scared shitless of the illusion and break ranks. Of course, we don't know what the EVIL KEENG's own magicians were doing—maybe they were having a couple of cold ones in the back, I don't know. So the REEL KEENG's men charge in and slaughter them all without very much effort.
The only thing I can say to this is a very long quote from the learned Mr. Zornhau:
"Strangely enough, most non-crap armies expect to be attacked in their camp and guard against it with piquets, stockades and divers spiky things. They also expect poisoned wells, hay carts crammed with bloodthirsty partisans, ambushes in defiles – which is why they have scouts – and pit traps and caltrops lacing fields which look suitable for a cavalry charge.
And – in hand-to-hand combat – throwing dust, if you can find enough of it, in my face might blind me for a moment if you're lucky, but while you're fumbling with dirt, I'm cutting off your head. Just throwing yourself at me "unexpectedly" isn't unexpected at all. Whack! Thud. You are now looking up at your own headless corpse and wondering why you can move your lips but not talk.
The only convincing workarounds are the ones that the characters have to… well.. work for, and then live with the consequences. In other words, solutions work which are part of the plot, rather than something the author pulled out of their posterior.
You can get into a castle by carefully infiltrating the workforce. You can kill an adept warrior by stalking him for ages, then finally shooting him in the back. Your peasants can overcome a field army by lulling it into a false sense of security over several months, welcoming the soldiers into their homes, then – on the signal – falling on all those homesick young – not individually evil – men in their sleep.
And, that's the thing. If you – the novelist – cheat, then you're saying victory is easy, doesn't have consequences, doesn't leave a nasty taste in your mouth.
You're saying that the world's victims deserve their fate, since if they would just have faith, they could throw off their shackles, overcome even the most hardened death squads.
You're also saying that those people who, with grim purpose, liberate themselves or others, have needlessly got their hands dirty: "You can't build a civil society on a bloody revolution."
If so, you are feeding a culture of entitlement and magical thinking. "Have faith, and it will be so."
In short, you are a liar.
But, I'll be fair. If you care to dispute this before the God of Battles, let's you and me try your righteous indignation and bravery against my seven-years training with longswords.
Are you feeling plucky, ploughboy?"
The equivalent should go for this. But of course, cheap tricks work because the author deems it so, and not because of any logic or effort on the part of the characters. So there's all the death and whatnot going all about Romilly, not that she's had any part in helping in the book's climax, or what passes off for a climax. So…she's only there to be eyes on the scene, and…guh. The climax of the book is supposed to be great. It's supposed to make you feel tnse, and the characters, especially the main one, should be involved, doing things, and adding to the tension…
…So what does Romilly do? Why,get knocked out, of course.
And then another man reared up with a lightning-flash of steel, she felt Carolin slip back in the saddle and fall, and in that moment Romilly felt sharp shearing pain as the sword sliced though neck and throat and heart, and blood and life spurted away…

She never felt herself strike the ground. (Pg. 737)
To quote How To Write A Best-Selling Fantasy Novel:
"8. Skip the hard parts.
Despite the need to keep the book long, some bits are just too hard to write. A thousand mile journey by foot is long, but easy to write. Battles on the other hand, are hard because there's a lot going on and you probably require some knowledge of military strategy. So if you're writing a battle scene and it's just getting too hard, simply have the hero suffer a wound and lapse into unconsciousness: e.g.
"… then suddenly his head exploded and a mist enveloped him and he felt himself falling into an ethereal tangible blackness. Badcolds's sword, still swinging through the air, seemed caught, imprisoned in time. The sound of the battle was suddenly a long way away but just as he closed his eyes and the black cloud engulfed him he thought he heard someone crying from the grassy knoll, "The Toasters are coming. The Toasters are coming."
Voile. Next thing our hero wakes on a white alabaster slab in the Healing Room where the Pure Maiden Warrior (see "Characters" below) tells him that the battle is over and, Guess what? They won! Result: you've saved 50 pages of intricate military description."
Puts on sunglasses YEEEEAAAAAAHHHH!
Now if only I had a speedboat with which to get away from all this. So it's night-time when she comes to. The big battle's over, and of course, the REEL KEENG has won. What's the first thing she does?
Sunstar! She reached out atuomatically for his mind, found—

Found nothingness! Only a great sense of vacancy, emptiness where he had been. Wildly she looked around and saw, lying not far away the stallions body, his head nearly severed, and the man he had killed lying beneath his great bulk. The rain had washed the blood clear so that there was only a great gaping wound in his neck from which the blood had soaked into the ground all around him. Sunstar, sunstar—dead, dead, dead! She reached out again, dazed, to nothingness. Sunstar, whose life she had shared so long…

And whom she had betrayed by leading him to death in a war between two kings…neither of them is worth a lock of his black mane…ah, Sunstar…and I died with you…Romilly felt so empty and cold she was not sure that she was still alive. (Pg 737)
So what does she do? Why, run away from the REEL KEENG's camp and live in the wilderness for days, of course. That's the only rational thing to do, innit? Commence a whole nine pages of whining and bitching about how humans are evil exploiters of animals and how we all deserve to die, and WAAH WAAH WAAH.
For your convenience, I've picked out the worst quotes:
Sunstar is dead. And I trained him with my own hands for this war, betrayed him into the hands of the one who would ride him into this slaughter, and the noble horse never faltered, but bore Carolin to this place and to his death. I would have done better to kill him myself when he ran joyously around our green paddock behind the hostel of the Sisterhood. then he would never have know [sic] fire and fear and a sword through his heart. (Pg. 738)

And then Romilly was overcome with rage and grief. They would take her back to themselves, reclaim her as a warrior-woman. She had fled from the company of men, come among the Sisterhood, and what had they done? Set her to training horses, not for their own sake of for the service of men, but to be slaughtered, slaughtered senselessly in this strife of men who could not keep their quarrels to themselves alone but involved the innocent birds and horses in their wars and killings…

And I am to go back to that? No, no, never! (Pg. 738)

I will serve no more, not as soldier nor Swordswoman nor leronis. From henceforth I shall serve no man nor woman. (Pg. 739)

It didn not seem to matter. Sunstar was dead. Carolin and Orain had gone she knew not where, nor did it matter, Orain wanted nothing of her…she was a woman. Carolin, like the Sisterhood, sought only to have her use her laran to betray other innocent beasts to the slaughter! Ruyven…Ruyven cared little for her, her was like a monk from the accursed Tower where they learned devilry like clingfire…

There is no human who shall mean anything to me now. (Pg. 739)

At the edge of the forest, she slid from her horse, and set him free.

"Go, my brother," she whispered, "and serve no man or woman, for they will only lead you to death. Live free in the wild and go your own way." (Pg. 739)
Or more likely, die a painful and horrible death as most animals let loose by PETA do, unable to fend for themselves in the wild.
All I shall say is:
WAAH WAAH WAAAAAAAAH.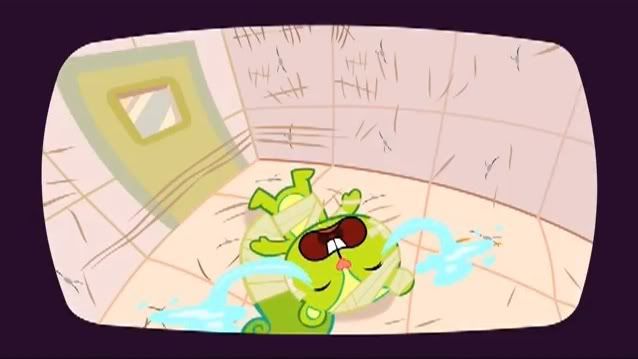 So Romilly enters the forest, and what follows is the most, bullshitting, laughable romanticisation of nature that could only have come from someone who has NEVER had to truly rough it:
Late in the day she nearly stumbled into a small stream, and cupping her hands, drank deeply of the clear sweet water, then laid herself down in a patch of sunlight that came between the leaves and let the sun dry the reminaing damp from her clothes. (Pg. 740)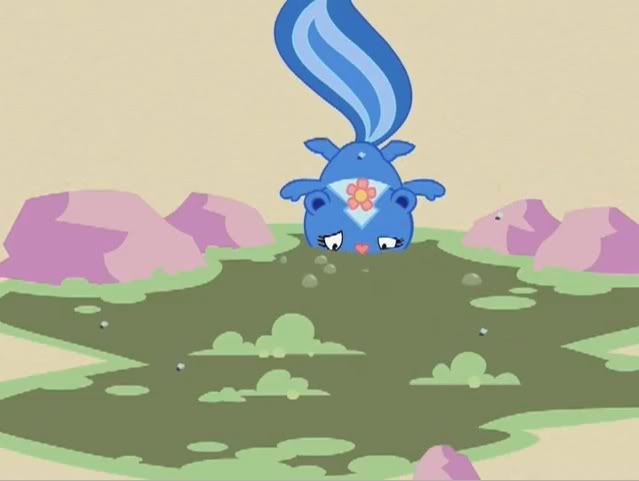 How quiet it was within the woods! There could certainly be no human dewlling nearby, or nothing could have been so peaceful, the wild things so untroubled and unafraid. (Pg. 740)

She was thirsty, but there was no stream nearby; she licked the dew from the low leaves of the tree over her head. On a fallen log she found a few old woody mushrooms, and ate them, then found some dried berries hanging to a stem and ate them too. After a little while, as she wandered lazily through the wood, she saw the green flags of a root she knew to be edible, grubbed it up with a stick, rubbed off the dirt on the edge of her tunic, and chewed it slowly. (Pg. 740-741)
Or rather, suffered severe dirrahea and vomiting from eating bad food and water, and died of dehydration.
A day or two later she realised that she had lost shows and stockings, she did not remember where, that her feet were already hardening to the dirt and pebbles of the forest floor. (Pg. 741)
Or rather, they were cutting into the soles of her feet until they bled, and turned infectious. And she died in great pain. You don't just go from "shoes" to "no shoes" all of a sudden and expect nothing bad to happen.
Dear fucking god. I want everyone who thinks wilderness survival is as easy as that to be dropped into a nice location with only the clothes on their backs and see how well they survive.
How about some tropical rainforest?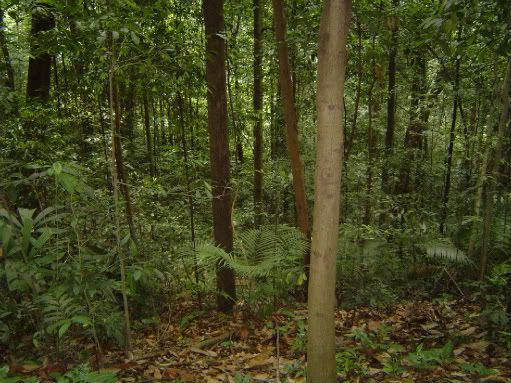 Or some saltwater mangroves?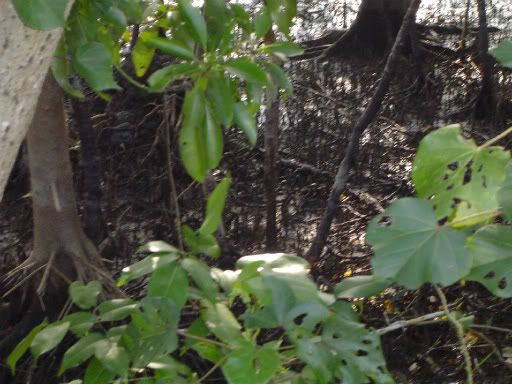 Let's see them last more than, say, four days. I had my full battle order, and two weeks was a PITA. Damn hippies.
So she moves from the forest to the plains, and one night she's suddenly attacked by a big cat! And the cat's about to kill her and end this bloody story for good, when guess who turns up to save her?
It couldn't be…could it?
IT FUCKING IS.
Then, as the cat sprung again, a fury of wings lashed down, and the hawk's claws raked at the eyes of the great cat, beating wings flapping around the cat's muzzle.

Preciosa! She has come to fight for me!

Romilly rolled free, springing up and climbing into a nearby tree. Preciosa hovered, just out of reach of the deadly claws, flapping and striking with beak and talons, until the cat, snarling softly, turned her back and vanished into the long grasses where her cubs were hideen. Her breath catching in her throat, Romilly slid down the tree and ran as far as she could in the opposite direct direction, Preciosa close behind her; she ehard the sound of the wings and the little shrilling sound of the hawk. When she was out of range, she stopped, turned, thrust out her fist, in a gesture so familiar she did not even make it consciously.

"Preciosa!" she cried, and as the hawk's talons closed, gently, on her arm, she remembered everything, and began to cry.

"Oh, Preciosa, you came for me!" (Pg. 745)
…
…
…
PILLS PILLS PILLS PILLS PILLS PILLS PILLS PILLS PILLS PILLS PILLS PILLS PILLS PILLS PILLS

Urrrrgggggghhhhh. Once this is over, though, she hears voices in her mind. Seems like the Good Guys are looking for her, because the EVIL CHANCELLOR has kidnapped Orain and is holding him hostage in Hali. And Romilly…well, they need her do something about it. So badly, that every single one of the REEL KEENG's men who can be spared is out looking for her.
Yeah, she's just that special.
BLLLAARRRGGGGHHHH oh god chapter end.
So she's tending to her last bloody bird when who should appear out of nowhere but Alderic!

Am I the only one who can't remember (much less care) who all these people are any more?

And Romilly is shocked that so many people could have changed just because she ran away from home and wonders if she was wrong about them.

I HATE it when books do this. You're telling me, that in all of the history of this land and people, there's not one single instance of any girl ever running away from home? EVER. Just… no, must remain calm…

Here? It's just a throwaway line tacked onto a huge paragraph of how awesome she is for making all these small-minded, misogynist bastards change.

How does that even make sense? Ok, for the father – MAYBE – but Dom? If he's such a misogynist bastard, why would 1 woman running away change his mind at all? Seems to me if that's what it took to "change" their minds, they weren't that misogynist to begin with.

It doesn't feel natural at all, much like an insincere apology.

Natural? It doesn't make sense!

But apart from that, they knew little of one another.

Boy, isn't it going to be awkward if Romily gets pregnant?

Part of feminism is supposed to be that you're not supposed to let what men—or hell, other people—think affect your life.

Screw feminism, that's individualism – for everybody! Of course, the impact of that in primitive societies, if it would be appropriate or even available… well that's enough to write a doctorate on.

But that is precisely what we must do, it was Alderic's thought, and he rode the company of two dozen men, headed by the small band of leronyn, breakneck toward the hill; suddenly stopped them.

People please, if you're going to do any primitive battles, do enough research to at least make it stand up under common sense. In my WiP, when a small rebellion starts up against the "evil" empire they only bother attacking towns with heavy sympathizers where the rebels have advantageous positioning – even though sometimes the empire still routs them easily. The only reason there is a climatic battle at the end is that the empire "herds" the rebellion into a position they want and descends to crush them easily. If you're a weaker force attacking a larger force, you do not face them except where you have overwhelming advantages.

And, that's the thing. If you – the novelist – cheat, then you're saying victory is easy, doesn't have consequences, doesn't leave a nasty taste in your mouth.

Yay! Wisdom!

But of course, cheap tricks work because the author deems it so, and not because of any logic or effort on the part of the characters.

Anyone here read Order of the Stick? In the battle of Azure City they actually have the good guys and bad guys more or less employ competing "cheap tricks". It's really one of the best battles I've seen done in awhile.

Voile. Next thing our hero wakes on a white alabaster slab in the Healing Room where the Pure Maiden Warrior (see "Characters" below) tells him that the battle is over and, Guess what? They won! Result: you've saved 50 pages of intricate military description."

Puts on sunglasses YEEEEAAAAAAHHHH!

Hmm… how about:
"I guess the author just couldn't hack it"
[Puts on sunglasses – YEEEEAAAAAAHHHH!]

Sunstar, whose life she had shared so long…

Um… wasn't it just a year?

Or more likely, die a painful and horrible death as most animals let loose by PETA do, unable to fend for themselves in the wild.

Or just die a painful horrible death as even many wild animals do. Still, way to screw up a lot of lives Romily – what you couldn't find a nice, poor farming family to give the horse to who could make good use of the animal for years and would take care of it?

Dear fucking god. I want everyone who thinks wilderness survival is as easy as that to be dropped into a nice location with only the clothes on their backs and see how well they survive.

LCCorp2, we got a great idea for a reality show! I bet you and I would be laughing our asses off at them.

Dang, that's not the end of the book? I was hoping.

Snow White Queen on 13 April 2010, 19:47 said:

Am I the only one who can't remember (much less care) who all these people are any more?

Definitely not. I still don't know exactly why Sunstar is such a big freakin' deal. And who's Clea? Why does Romilly angst about people I don't even know?

This book is confusing on top of being horrible.

dragonarya on 13 April 2010, 20:43 said:

An evil tree? Makes me think of Exdeath from Final Fantasy V.
Nope, I can't remember all these people either. 'Cause I don't care about them. And once again, a book reaches its end (it's ending soon, right?) without accomplishing anything.

LucyWannabe on 13 April 2010, 23:15 said:

…seriously, she cried that much over Sunstar? Just what, exactly, did she think was going to happen to that horse—or any horse—that was used in battle? Like soldiers, the mounts were in a hell of a lot of danger and had just as much of a chance of dying as their human counterparts. But no, she doesn't think of that until AFTER the fact. Stupid little… AAAAARRRRR.

And this isn't even touching all of the other things that others have pointed out. Ugh. I just…I'm running out of ways to express my disgust. :P

Danielle on 14 April 2010, 12:24 said:

I will now present Hawkmistress! in autocomplete result form.

Romilly is oppressed by the evil Patriarchy….

…along with all the poor, defenseless animals in Darkover.

So she runs away and finds new friends.

The Sisterhood teaches her many important things.

But they still don't know how the world really works.

Even though her family has changed for the better….

Romilly can't stand them. So she leaves again and goes to live in the forest. She has many wonderful adventures there.

Here's what readers have to say about this wonderful book!


dragonarya on 14 April 2010, 16:06 said:

@ Danielle: Do these things really show up? 'Cause if they do, that's awesome and hilarious. It's awesome and hilarious even if they don't.
That's brain bleach people are drinking, right? I certainly would.

LucyWannabe on 15 April 2010, 02:31 said:

I managed to keep it together until I hit "pineapples are chasing me", and then I just lost it. XD

falconempress on 15 April 2010, 07:18 said:

@Danielle – it will be a privilege, miss, to eat as many poisoned chocolate coins for you as you wish:P

Danielle on 15 April 2010, 12:20 said:

@falconempress: Aw, shucks. Here, I brought some cookies that I swear aren't poisoned:

Anonymous45 on 16 April 2010, 17:36 said:

IDK, IDK, but Survivorman regularly spend 7 days in forest/wilderness/deset/wetlands/jungle with the clothes on his back. And once he and his wife lived in the Boreal for 2 years with pretty much nothing.

I'm more concerned with the fact that she lost her shoes AND DIDN'T KNOW.
And only hummingbirds and helicopters can hover in stable air.

lccorp2 on 17 April 2010, 02:47 said:

Survivorman is a) specially trained, b) has a realistic grasp of the situation and c) isn't a goddamned hippie. Apples and oranges.

fffan on 17 April 2010, 07:09 said:

Apples and oranges?

Thea on 18 April 2010, 18:44 said:

In a real forest, I don't think Romily could have withstood the bugs…much less made it through the night.

Zombie on 28 December 2010, 20:23 said:

Alderic was an evul misogynist wasn't he? Oops, I forgot. All men are evul misogynists.

misanthropic anti-hero on 4 April 2011, 18:23 said:

Dear BFT3K, Hawkmistress,

You're a major excuse for a misanthrope and a total retard for coming up with this all this shit. Since you blasphemed God (whom I don't obsess over), you can let yourself get killed by him for all I care.

Why in the hell should we live like animals? You remind me of some closed-minded prick who typed that we should live like apes because he hates language and technology. I bet that you and him could make a fine couple in Hell, which is where you and him belong.

Just because I'm a misanthrope, it doesn't mean that I hate all humans. I just hate the one who are jerks like you and the one called Zombie.

Speaking of the one called Zombie, here's what I'd like to tell her:

"You're a big fat liar just like BFT3K in that you're blind to think that all men are evil misogynists. I'm a man. But I don't hate all gals. And I'm not evil even though I sound like it. Instead, I'm an anti-hero like I made my username say.

Because of your sexist views, you can join BFT3K in hell for all I care."

Moggo on 4 April 2011, 19:17 said:

Dude, WTF? Have you even read the article you are refering to, or is it that you have no clue about the meaning of the word irony?

Wait, on second thought: TROLL! Run for your lives, people!

swenson on 4 April 2011, 22:21 said:

lolwut?

Either we've got yet another troll, in which case I'm going to cry, or they really meant it, in which case I'm going to laugh hysterically in a vain attempt to keep myself from crying. My word.

(how's that law of the Internet go? Poe's law, isn't it, that it's impossible to make a statement so ridiculous someone can't accept it as genuine? I'm pretty sure I've gone so far that I just assume the Reverse Poe's Law on everybody—no matter how genuine you sound, it can still be interpreted as a troll.)