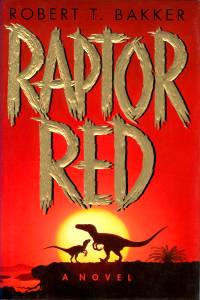 Raptor Red by Robert T. Bakker
Reviewed by trexmaster
Traditionally, dinosaurs in fiction tend to fit into one of two categories: herbivores who look majestic while munching on vegetation in the background, or carnivores (and sometimes angry herbivores) menacing human protagonists such as explorers or anachronistic cave-dwellers. Uncommon is the story where the dinosaurs are the main characters themselves, the characters we are supposed to root for. Raptor Red is one such story.
Set in North America 120 million years ago, during the earlier half of the Cretaceous Period, the book has for a protagonist a female Utahraptor named "Raptor Red" by the author (Utahraptor, for the uninitiated, was a 20-foot-long cousin of Velociraptor). In the first chapter of the book, Raptor Red's mate gets killed after they bring down a long-necked Astrodon, forcing her to find a new male to pair-bond with. In the meantime, she joins forces with her sister, who is raising offspring of her own. Together, they will brave a flood, famine, dangerous prey, and rival predatory dinosaurs as they struggle to survive the prehistoric world. Eventually Raptor Red does find a male consort, but her sister doesn't approve of him. Will Raptor Red ultimately mate with her newfound "boyfriend", or will her sister drive him away?
It must have been challenging to successfully characterize dinosaurs, but I think Bakker did a pretty good job at it. His raptors are ferocious predators you wouldn't want to meet in a dark forest, yet at the same time they're thinking, feeling, caring animals, not one-dimensional walnut-brained monsters many laypeople imagine dinosaurs to be, which I find refreshing. The book is also very informative about the various prehistoric creatures that populate Raptor Red's world, as befits writing by a paleontologist as famous for his work on dinosaurs as Bakker.
However, I think the book does refer too many times to Darwinian evolutionary theory when explaining the dinosaur characters' actions—-do we really need to know the genetic consequences of every behavior a dinosaur exhibits? In addition, the book has a tendency to mention modern-day objects and animals (e.g. raptor claws are likened to Ginsu knives, armored herbivorous dinosaurs to tanks, etc.); I personally wasn't too bothered by this, but some readers may wish they were better immersed into the prehistoric world.
Those criticisms having been stated, I enjoyed Raptor Red and highly recommend it to any lover of dinosaurs or animal stories.
This book sounds interesting. I don't think I've ever heard of a book with anthropomorphic dinosaurs before.

Nate Winchester on 30 June 2011, 16:13 said:

However, I think the book does refer too many times to Darwinian evolutionary theory when explaining the dinosaur characters' actions—-do we really need to know the genetic consequences of every behavior a dinosaur exhibits?

Do you mean in the sense of a historian's mistake (the idea that historical characters acted and made their decisions with full knowledge of the future — including the repercussions their actions would cause)? Or in some other sense? Was this a case of the narrator itself butting in to inform the readers?

Thea on 30 June 2011, 21:57 said:

Oh my gosh, I read & loved* this in middle school! I'd forgotten all about it.

*really liked? just liked? I can barely remember at this point, but it's definitely a nostalgia hit.

Klutor the Ninth on 2 July 2011, 09:54 said:

anthropomorphic dinosaurs

They're not. They're normal, animalistic dinosaurs – they just happen to be the POV characters. Or So I've Heard.

e.g. raptor claws are likened to Ginsu knives, armored herbivorous dinosaurs to tanks, etc.

Yeah, that's kinda clumsy. Somewhat justifiable, though; especially since there are no characters from our time/species present, ever.

Write Me an Essay on 4 June 2018, 06:12 said:

Raptor Red isn't humanized; rather, Bakker draws on what we think about cutting edge predators and prey to portray a creature who is a productive.

Assignment Help on 22 November 2018, 00:25 said:

Get The Dissertation Writing Service Students Look For These Days With The Prime Focus Being Creating A Well Researched And Lively Content On Any Topic.

Case Study Help on 22 November 2018, 02:58 said:

I'm Really Impressed With Your Article, Such Great & Usefull Knowledge You Mentioned Here

Case Study Help on 22 November 2018, 03:13 said:

Thanks A Lot For The Post. It Has Helped Me Get Some Nice Ideas. I Hope I Will See Some Really Good Result Soon.

Case Study Help on 22 November 2018, 03:24 said:

They Are Not Able To Finish The Writing Assignments On Time. For Some Students, Writing Any Writing Assignments Is Able To Waste Their Time

Case-Study-Analysis.com on 22 November 2018, 03:36 said:

Dissertation Guidance Provides Quality Online Dissertation Help For Students.

CollegeAdmissionEssays.XYZ on 22 November 2018, 05:04 said:

Amazing Article Thanks Or Sharing..

Engineering Assignment Help on 22 November 2018, 05:17 said:

Get The Dissertation Writing Service Students Look For These Days With The Prime Focus Being Creating A Well Researched And Lively Content On Any Topic.

Essay Writing Service on 22 November 2018, 05:28 said:

I Loved The Way You Discuss The Topic Great Work Thanks For The Share Your Informative Post.

Take my online Exam on 22 November 2018, 05:39 said:

They Are Not Able To Finish The Writing Assignments On Time. For Some Students, Writing Any Writing Assignments Is Able To Waste Their Time

Homework Help USA on 22 November 2018, 05:59 said:

Get The Dissertation Writing Service Students Look For These Days With The Prime Focus Being Creating A Well Researched And Lively Content On Any Topic.

HR Assignment Help on 22 November 2018, 06:24 said:

Things Are Very Open And Intensely Clear Explanation Of Issues. Was Truly Information. Your Website Is Very Beneficial.

Job Placement Test on 22 November 2018, 06:37 said:

Thanks A Lot For The Post. It Has Helped Me Get Some Nice Ideas. I Hope I Will See Some Really Good Result Soon.

Literature Review Writing Service on 22 November 2018, 06:47 said:

They Are Not Able To Finish The Writing Assignments On Time. For Some Students, Writing Any Writing Assignments Is Able To Waste Their Time

Proposal Essay Topics on 22 November 2018, 07:00 said:

Amazing Article Thanks Or Sharing..

Take My Online Class on 22 November 2018, 07:11 said:

Pretty Helpful Material, Much Thanks For This Article

Take My Online Course on 22 November 2018, 07:31 said:

This Is Great Information For Students. This Article Is Very Helpful I Really Like This Blog Thanks. I Also Have Some Information Relevant For Online Dissertation Help.

Homework Help UK on 22 November 2018, 07:44 said:

Really I Appreciate The Effort You Made To Share The Knowledge. This Is Really A Great Stuff For Sharing. Keep It Up . Thanks For Sharing.

Write My Assignment on 22 November 2018, 08:01 said:

They Are Not Able To Finish The Writing Assignments On Time. For Some Students, Writing Any Writing Assignments Is Able To Waste Their Time