I open at the close.
—Harry Potter, Harry Potter and the Deathly Hallows, page 134
Soon we will see it closed.
The final chapter exposed.
It's an end of an era
And I'm seeing clearer
That nothing will ever be the same.
—Oliver Boyd and the Remembralls, "End of an Era"
Previously on Adapt or Die: Harry Potter Edition:
Harry Potter and the Philosopher's Stone
Harry Potter and the Chamber of Secrets
Harry Potter and the Prisoner of Azkaban
Harry Potter and the Goblet of Fire
Harry Potter and the Order of the Phoenix
Harry Potter and the Half-Blood Prince
Before I begin, I would like to make a clarification in how I write these articles. I try to list most changes, omissions, and additions whether I think they are good decisions or not, just because if I were reading this, I would like to have that information. So, just because I say something was different, that doesn't mean I think it was bad; I could even have liked the change. I'm also, again, not judging the movie so much on whether it was a good movie or not, but on whether it was a faithful adaptation. I'm looking at this from the point of view of a reader rather than a moviegoer. I like all the Harry Potter films. I enjoy watching them, and I think they are good movies in their own right. I even think that they were better adapted than most adaptations I've seen. But the grades and comments in these articles are about how well the books were adapted for the screen and how well the story was preserved; they are not about what a wonderful and entertaining movie it was (even though I could mention things about it being a good movie). Okay, moving on.
So, here we go. Harry Potter and the Deathly Hallows, the last one. I went to the midnight premieres of both Part 1 and Part 2. I also went back later and saw Part 2 in 3D just because. I think I've decided that Deathly Hallows is my favorite book in the series and also my favorite movies in the series. The films seem to have the best of both worlds: they are relatively faithful (especially with all the ret-conning they have to do), and they are really good movies (in my opinion). Strangely, it was a few small changes that bothered me most in these movies, rather than some of the larger changes (which mostly happened due to time constraints or an inability to translate to film properly). I have decided that I'm not going to mark spoilers in this article because characters are dropping like flies, and the whole thing is like one giant spoiler. I also figured that if you've made it this far, you have probably either read the books or seen the movies (if you haven't, I suggest you do so before reading on). For information on grading see here.
Basic Story
After the death of Albus Dumbledore, the quest for Lord Voldemort's Horcruxes falls to Harry Potter, with a little lot of help from Ron and Hermione. The trio embarks on an epic camping trip (no, really). Along the way, Harry learns many secrets from Dumbledore's past, and the trio begins to see how the Wizarding World has changed now that Voldemort is in charge. The trio fights, returns to Harry's birthplace, gets captured, and robs a bank before finally returning to Hogwarts, which becomes a battleground soon after Harry's arrival. During the battle, a bunch of people die, Neville and Mrs. Weasley become awesome, and Ron and Hermione kiss. Now, with all the Horcruxes destroyed, it is up to Harry to destroy Lord Voldemort once and for all. Then he must tackle his most horrifying challenge yet: middle age.
The biggest flaw in this adaptation actually spans the entire movie franchise (with varying results):
Adding Excitement to Already Exciting Scenes
So, I'm just going to talk briefly about a couple of examples of this. The first one that comes to mind is when the Order comes to take Harry to the safe house and they battle the Death Eaters in the air. In the book, they are above all of the Muggle things and are just battling in the air. I don't see why having a massive battle on broomsticks wasn't exciting enough. The movie decided that they should fly and drive on Muggle streets and demolish Muggle cars and things. Doing this doesn't really make sense in the Harry Potter universe. They do their best to avoid being seen by Muggles. If they are accidentally seen, it involves rather large cover-ups. This little spectacle in the movie would have been a lot of trouble for the Wizarding World to clean up.
The other example that comes to mind is Harry and Voldemort's battle. In the book, it was in front of everyone in the Great Hall. Harry gave a little speech about Snape and about how Voldemort didn't have love. Then they did their little duel, and Voldy died. In the movie, Harry and Voldemort jump off a building and proceed to fly around Hogwarts (all that crashing they do probably gave Harry a nasty concussion). When they finally land, they battle (while there are brief cuts to Neville killing the snake). I would like to comment on the snake thing actually. I didn't mind how it was done. I want that scene of Neville getting up in the Great Hall with the sword, and I want to put the Rocky music in the background. Even so, it doesn't make sense that Harry would battle Voldemort without destroying all the Horcruxes first, and he didn't know that they were all destroyed when he killed Voldemort. I can't remember for sure if Neville even knew what the snake was in the movie. Anyway, back to the battle. Voldemort disintegrates (so does Bellatrix when Mrs. Weasley kills her). Avada Kedavra doesn't make someone disintegrate. The book even talks about putting his body away from the bodies of those who fought for Hogwarts. The disintegrating doesn't change the plot, but it was only done to be more exciting/cooler. Why wasn't the battle in front of everyone (I think it being in front of everyone is cooler myself) exciting enough?
Casting
I decided since this is the last one, I would post a picture from the character's first appearance in the film along with their last appearance (in the final two films). Note, that it's the character's first and last appearance, not the actor's. If you'll notice, the characters are a little dirty and worse-for-wear in a lot of the second pictures. I'm also posting stuff for characters I've already done just because it's the last one.

Daniel Radcliffe as Harry Potter: Dan went from a cute little kid with passable acting to an adult with slightly better acting. I've found that he's better with comedy than drama (his dramatic scenes often look awkward), but he still looks the part, and he does a decent enough job in these films, even if he doesn't completely pull off the character. Dan does do a really great job in the Seven Potters scene, playing all the characters. He looks weird as a middle aged guy, though.

Rupert Grint as Ron Weasley: Rupert is good in this, but I seem to always think he's good, so I may have a bias or something. He gets to be the comic relief a lot of the time, which he is very good at. I also thought that making Ron kind of fat in the flash-forward was realistic and amusing.

Emma Watson as Hermione Granger: Emma is amazing in this movie. I think this is the best she has been in them. The torturing scene is heartbreaking and sounds so real (I was really surprised how well she did in that scene), and her interactions with Ron seemed very realistic. Based on the flash-forward, Hermione seems to have aged the best.

Michael Gambon as Albus Dumbledore: He was mostly in flash-backs, but in the Limbo scene, Gambon seemed more like the Dumbledore of the books than he had since he took over the role. Of course the first picture of Dumbledore is of Richard Harris, who played the role until his death.

Alan Rickman as Severus Snape: The only thing I would change about how Snape is portrayed would be to get a time machine and go back and get an Alan Rickman that was closer to Snape's age in the novels. Since that's impossible, I am very happy with Rickman's portrayal of Snape in all of the films. Snape is my favorite character in the novels, my favorite character in the movies, and Alan Rickman has the most consistent and faithful representation of any of the characters. He does more emotional scenes in this film (which I will talk about later), and he's great in those too. The black hair does make him look younger, even if he still doesn't look as young as book Snape.

Robbie Coltrane as Rubeus Hagrid: I still want to know how they make him look so big…. Oh, right, his acting and all that. Coltrane is great throughout the movies, in my opinion. He's a sweet, but tough Hagrid. His carrying "dead" Harry is pretty great.

Maggie Smith as Minerva McGonagall: Smith is great, as always, as Professor McGonagall. I really liked that in this one (book and movie), we get to see McGonagall as more of a person, rather than just Harry's teacher. I like how she says that it's good to see Harry, and the theater cheered when she called the statues and suits of armor to defend the castle and said, "I've always wanted to use that spell." I also liked how they had her hanging out with Mrs. Weasley some during the battle. They seem like they'd get along.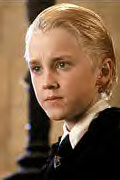 Tom Felton as Draco Malfoy: Draco sucks at everything. He sucks as being a good guy. He sucks at being a bad guy. He just sucks. He is so bad at everything that it makes you feel bad for him, or it does me at least. Felton actually does better with Malfoy's more confused and flawed personality than he did with the bratty bully personality. It could just be because he's older. Also, they made him a less-than-attractive adult.

Bonnie Wright as Ginny Weasley: Bonnie doesn't do much in these film, not that Ginny does much in this book anyway. She does okay with the scenes she's in. She looks… different in the flash-forward. My friend and I decided that the filmmakers tried to make her look like Molly. They had moderate success, but she still looked a little off.

Evanna Lynch as Luna Lovegood: Evanna is great, as always, even though she doesn't have that many scenes. I love when she yells at Harry to listen to her on the stairs.

Matthew Lewis as Neville Longbottom: Neville gets his moment. Matthew does a great job as new and improved badass Neville. He doesn't even look like the same person in this one.

James and Oliver Phelps as Fred and George Weasley: They do a good job, even though they do less in these films than in previous ones. RIP Fred.

Julie Walters as Molly Weasley: Yes! Molly Weasley gets to be awesome! Julie Walters is great in her Crowning Moment of Awesome… bitch.

Mark Williams as Arthur Weasley: He also doesn't get to do that much, but he's good when he's around.

Toby Jones as Dobby (Voice): Poor Dobby. I though Jones did a good job with the voice again.

Helena Bonham Carter as Bellatrix Lestrange: Carter continues to make Bellatrix far more irritating than she is intimidating. I don't know if she was directed that way or if she decided to play the character that way. I did enjoy seeing her reprimanded by Voldemort and kind of shrink away from him. Carter did do a good job with Hermione's mannerisms during the Polyjuice robbery scenes.

Warwick Davis as Griphook: The first picture is of Verne Troyer, who played Griphook in Philosopher's Stone (though he was still voiced by Davis in that film). Even though Davis voiced Griphook in the first film, I seem to remember a higher-pitched voice than in the last two films. Anyway, Warwick Davis does a nice job as Griphook the goblin. He also plays Professor Flitwick.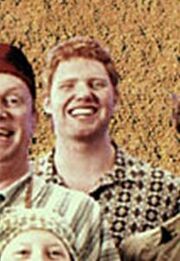 Domhnall Gleeson as Bill Weasley: Richard Fish is the guy in the first picture. He only got to play Bill in the family photo in Egypt. Gleeson does a nice job as Bill, and he's Brendan Gleeson's (Mad Eye's) son, which is kind of cool.

Clémence Poésy as Fleur Delacour: What in the hell happened to her accent? She doesn't sound French anymore, or at least not to me. She had a thick accent in Goblet of Fire, but she sounds British in this film. Luckily, she doesn't talk much, so it's easy to overlook.

David Thewlis as Remus Lupin: I still like him. It kind of sucks that one of his major scenes was cut, but I thought Thewlis did well.

Natalia Tena as Nymphadora Tonks: She wasn't around much, but I thought she did a good job. She is also one of the few (only?) actors in the movie that is the age (or very, very close) her character is in the novel.

Brendan Gleeson as Alastor Moody: Gleeson did well in the scene he had. He still looked great in his costume.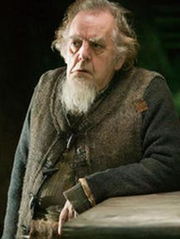 Ciarán Hinds as Aberforth Dumbledore: The first picture is of Jim McManus from Order of the Phoenix. I think he was just in the background at the Hog's Head. Anyway, I think Hinds was well-cast. He looks similar enough to Gambon (yes, the beard does help), and he looks like a younger version of Albus Dumbledore, which is kind of how I saw Aberforth, but he's also stockier, which seems right as well. He didn't wear glasses, but that's not a big deal. Other than appearance, I thought that Hinds did a nice job in his scene. And he conveyed a lot of the things that were left out about Albus with just a few sentences that didn't even go into Albus's past.

Jason Isaacs as Lucius Malfoy: When he was there, he was good, but he wasn't there much. They did a good job of making him look haggard during the mansion scenes. He played desperation well.

Helen McCrory as Narcissa Malfoy: She did a nice job in the scenes she had. The scene where she asks Harry is Draco is alive was done well.

Rhys Ifans as Xenophilius Lovegood: He does a good job. He looks fairly similar to Luna. He also does a good job acting nervous/anxious when the trio comes to his house.

Imelda Staunton as Dolores Umbridge: She didn't have a big part, but she was still evil, and I hated her. Good job, Imelda.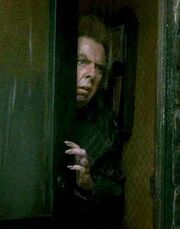 Timothy Spall as Peter Pettigrew: He did a decent job, but it's too bad we didn't get to see him kill himself (accidentally, of course).

Bill Nighy as Rufus Scrimgeour: He doesn't look very lion-like to me, but I do think he had a limp (not sure). There's no grey in his hair or glasses either, but meh. He could have been pushier. Book Scrimgeour always seemed pushy.

Gary Oldman as Sirius Black: The one scene he had, he did all right in.

David Bradley as Argus Filch: He was very Filchy. I liked when he ran into the Great Hall to say that students were out of bed. I also liked that he was attempting to sweep up after the battle.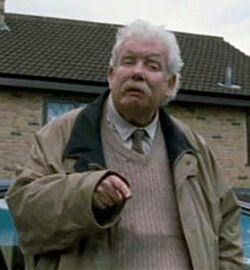 Richard Griffiths as Vernon Dursley: He didn't get to do much, but he was there, and he was Uncle Vernon.

Fiona Shaw as Petunia Dursley: Again, she didn't get to do much. I've read about a deleted scene of hers where she talks to Harry about stuff, which sounded like a good scene.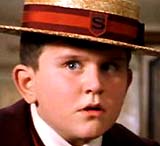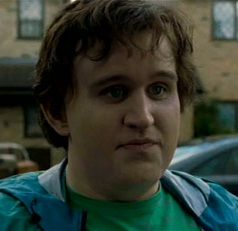 Harry Melling as Dudley Dursley: He doesn't get to be redeemed, which was disappointing. Melling is really only in the background in this film.

Ralph Fiennes as Lord Voldemort: He still looks silly, but he manages to be maybe just a little more threatening. I like the times he yelled at the different Death Eaters, and his hugging Draco amused me. Oh, and that's Richard Bremmer in the first picture.
Missing Plotlines
The Life and Lies of Albus Dumbledore
This is the biggest omission in the movie. It was a pretty big part of the book, but Dumbledore's past is barely included in the movie at all. And yet, I understand why. It would have been quite difficult to include when you think about it. Sure, they could've used flashbacks, but there would need to be a plausible lead-in to said flashbacks. In the book, they just read a lot about Dumbledore in Rita's biography, and then Dumbledore explains a bunch of stuff to Harry in Limbo. While the second of those two devices would've worked, the first would not. They can't just sit around reading different passages for multiple scenes in the movie. Even as a lead-in to a flashback, it probably wouldn't have worked well. And Dumbledore explaining things doesn't make a lot of sense when they haven't learned much about him throughout the movies.
There are some things that I think could have been done to at least allude more to the subplot. First off, Harry could have seemed more disillusioned about how little Dumbledore had shared with him (they started this a little with Ron's aunt asking if Harry really knew Dumbledore at all). Second, Aberforth could have said a little bit more, at least about Ariana (I'm a little iffy if this would have worked or not). And last, and what I would have liked to see most, Dumbledore could have alluded to his past and his regrets and remorse in Limbo when he was talking to Harry. That said, I didn't find the omission of Dumbledore's past to really hurt the movies, though that may have been because I was far more interested in Snape's past at this point than Dumbledore's.
Lupin and Tonks
This was also, understandably, cut. There was some stuff in the book about Tonks's parents. Harry and Hagrid went to Tonks's parents' house before going to the Burrow, and Tonks's dad later died. There was also more relationship stuff that was left out. Tonks and Lupin didn't announce their marriage at Harry's house (though Tonks started to announce something).
The only thing that I wish they would have kept was the baby stuff, really just one scene. The scene with Lupin trying to run away from his responsibilities because he was a afraid that the kid would be a werewolf or that he wouldn't be a good dad would have been nice to see, if only to see Harry really go off on someone. That was an interesting moment for both characters, and I don't think it would have taken that long. If not that, then they could have had a quick announcement about how the baby had been born while they were at Shell Cottage. As it is, Harry asks dead Lupin about his son when he's going into the forest to face Voldemort. I could imagine non-readers wondering, "What son? He has a son?" It's also never mentioned that Harry has been made Teddy Lupin's godfather.
Missing Scenes
The Dursleys Departing
"I don't think you're a waste of space."
—Dudley Dursley, Harry Potter and the Deathly Hallows, page 40
So this one did bother me. It seems that any time the Dursleys have a redeeming moment, it gets cut. This is the scene that I would have wanted included over all the other scenes that I would have liked to see. Basically, Dudley is concerned about Harry not going into hiding with them. And Harry has to explain that Dudley saying he isn't a waste of space is like saying, "I love you." And Dudley shakes Harry's hand before he leaves. I've seen stills of the handshake, so I think it just ended up being cut from the final film. Before Aunt Petunia leaves in the book, she looks back at Harry like she wants to say something but doesn't. I've read about a deleted scene where she does say something to Harry, but I haven't seen it yet.
Kreacher's Tale
This is another scene that I really wish had been included and another that I don't think would have taken a lot of time. In the book, Kreacher explains how Voldemort made him drink the potion to put the locket in the basin and how he was able to Apparate out of the cave. Then later, Regulus took Kreacher back and drank the potion himself, giving the locket to Kreacher to destroy. It's a nice story, and it makes the audience feel for Kreacher. I also like how Kreacher becomes nice as soon as the trio gives him the fake locket, showing that Kreacher only acts the way he does because of how he's been treated, but I do understand why showing Kreacher's improved behavior would have taken up time that could be used for other things.
Ted and Dean
While on their epic camping trip, the trio comes across a group of runaways that includes Dean Thomas, Ted Tonks, and Griphook the goblin. They hear them talking about Harry. It being cut isn't a huge deal, but it does help to diminish Dean's role in the films.
Potterwatch
The trio never listens to the radio program Potterwatch, which is hosted by Lee Jordan along with other co-hosts, in the movie. Ron brings up the show when he returns, and they listen to it a couple of times. In Part 2, they do show it being broadcast from inside the Room of Requirement. Instead, they listen to a generic radio program listing names of those missing and dead; they listen to it even before Ron leaves.
Goat Patronus
In the book, Harry has to cast a Patronus to save the trio from Dementors when they get to Hogsmeade. Aberforth saves them by claiming to the Death Eaters that it was his Patronus and was actually a goat, not a stag.
In Ravenclaw Tower
When the trio arrives at Hogwarts, Harry asks for help to find the final Horcrux, which he doesn't name, but he does say that they need to find something that may have belonged to Ravenclaw. This is when Luna brings up the diadem. Luna takes Harry to Ravenclaw tower, after Ginny volunteers her over Cho Chang, to look at the statue of Ravenclaw, so he can see what the diadem looks like. We get to see that to get into Ravenclaw tower, you have to answer a trivia question rather than remember a password. Harry and Luna also incapacitate Alecto Carrow while they are there. I see why this wasn't included because it could be skipped to get to the more important events.
Fred's Death
It was given more attention in the novel than in the film. It was described and the immediate reaction was seen. In the film, we just see the Weasleys gathered around his body after the fact. It's not a huge deal that we didn't get to see it, but it may have been more powerful if we did.
Missing Characters:
They really brought back most of the characters even if it was just to show them fight or die briefly, but a few that didn't appear in the previous films (or books) were left out.
Ted and Andromeda Tonks
Tonks's parents played a small part in the novel, as I already said, but they aren't mentioned at all in the films, though it's no huge loss.
Viktor Krum
Krum goes to the wedding and tells Harry that Luna's father is wearing a necklace with Grindelwald's mark on it (it turns out to actually be the sign of the Deathly Hallows). This does bring Harry's attention to the sign, however.
Phineas Nigellus Black
He's the only character that was omitted that may have been kind of important. His portrait is in Hermione's bag so he hears things that the trio says and reports back to Snape, which is how Snape knew to send his Patronus to the Forest of Dean.
Alecto and Amycus Carrow
They are mentioned in the films, but they aren't really seen (I think they are shown at least once, but it isn't explicitly stated who they are). Mentioning them is really enough since their main scene was cut (probably for time and flow) anyway.
Vincent Crabbe
In the book, Crabbe is the one who sets the Room of Requirement on fire, and he is the one who dies. Blaise Zambini (I didn't even know that's who the other kid was until I read it online) was not involved at all. I think the reason Crabbe wasn't in it was because the actor got into drugs. I'm fine with him not being there, but I think they could have just had Malfoy and Goyle then. Or recast Crabbe. He wasn't seen much in the last few films, so it wouldn't have been that noticeable, and it would have kept me from being distracted by my wondering, Who is that kid? about Blaise. Anyway, Goyle is the one who sets the fire and dies in the movie, which is okay because the two were really like one character anyway.
Small Changes That May or May Not Really Matter
Again, saying it's a change doesn't mean I think it's bad. And thanks to the Harry Potter Wiki for reminding me of most of these.
Hedwig flies with the Seven Potters in the film, but in the book she is in a cage, so when she's hit with the killing curse, she doesn't immediately fall. I liked the book version better, but it doesn't make a big difference overall.
In the book, Voldemort knew which Harry was the real one because he used Expelliarmus. In the film, it's because Hedwig was trying to protect him.
Harry doesn't try to leave in the middle of the night in the book like he does in the film. If he had actually left then, the Trace would still have been on him, and it would have been dangerous.
Ron doesn't show Harry the ghoul he dressed up to look like him with spattergroit in the movie.
Scrimgeour doesn't ask why Dumbledore would leave things to Ron and Hermione, nor does he mention the fact that Snitch's have flesh memories (Hermione mentions it later, though). It also isn't shown or mentioned that Dumbledore's copy of The Tales of Beedle the Bard was written in Runes.
Harry's birthday is celebrated in the book, but not in the first film, so Harry never gets the mokeskin pouch from Hagrid. In the film, Hermione exclaims that they didn't celebrate his birthday, and Harry reminds her that considering what has happened, it's not really that important. This is a funny moment really.
In the movie, Harry and Ginny kiss and are caught by George, who doesn't care that they are kissing. In the book, they kiss in Ginny's room, and it kind of seems like it might lead to other things until they are interrupted by an angry Ron. Ron is angry because Harry had broken up with Ginny in Half-Blood Prince, which didn't happen in the movies.
Harry attends the wedding as "Cousin Barney" in the book, but he goes as himself in the movie.
Fleur's dress is simple in the book but fancy in the movie.
The old lady who tells Harry about Bathilda Bagshot is not identified as Ron's Aunt Muriel in the movie.
Kingsley's Patronus isn't a lynx in the movie, but instead just a little ball of light.
They don't explain where they got all this Polyjuice Potion. In the book, Hermione says that she took the rest of Moody's stores from the Burrow.
The Invisibility Cloak is, once again, underused.
The waitress at the diner leaves instead of ending up unconscious like she does in the book.
In the film, the trio stuns all three Ministry workers, whereas in the book they stun one and make the other two sick. Stunning all of them actually makes more sense to me.
The Polyjuice Potion in the Ministry wears off the trio earlier in the film than in the book.
In the film, Hermione says that Ron is too weak to Apparate after being splinched, but I'm pretty sure he Apparates in the book.
Harry dances with Hermione to cheer her up in the film, but he just watches her be sad in the book. I liked the addition of this scene.
Harry and Hermione do not use Polyjuice Potion to go to Godric's Hollow like they do in the book.
Grindelwald does not deny owning the Elder Wand in the film.
The Taboo attached to Voldemort's name is never explained in the film. This could be confusing to non-readers.
The trio doesn't find the mural that Luna painted in her room of all her friends. It would have been nice to see.
The Erumpent horn is not seen in the Lovegoods' house, nor is the diadem that Xenophilius is working on.
The trio is captured by Snatchers right after they leave the Lovegoods'.
Dean is not in the basement with Luna and Olivander.
Wormtail is stunned by Dobby in the film, which incapacitates him. In the book, his silver hand strangles him when he considers showing Harry mercy for saving him in Prisoner of Azkaban. The latter is way cooler, and it would have been awesome if it was included.
Hermione is tortured with a knife in the film and the Cruciatus Curse in the book. She uses the knife to carve "mudblood" into Hermione's arm. I don't mind the knife, actually. It seems to fit Bellatrix's psychotic nature to want to use a more hands-on approach, though it also seems like she might see a knife as a Muggle weapon and prefer her wand.
Ron does not call out to Hermione when she is being tortured in the film.
Dobby gives a speech before he dies in the film, but in the book he just says, "Harry Potter." I don't mind the speech.
In the book, Olivander only knows about the Elder wand. In the movie, he knows about all the Hallows.
Bill doesn't explain that goblins believe that items belong to those who make them, not those who pay for them in the movie, though it is implied that Griphook feels differently about the ownership of the sword of Gryffindor than the humans do.
Lupin doesn't come to Shell Cottage to announce the birth of his son.
When the trio goes to rob Gringotts, someone who knows Bellatrix joins them in the book, but no one joins them in the film.
In the book, Bellatrix's treasure both multiplies and burns those who touch it, but in the movie, it just multiplies. I can see how it would have been hard to show it burning them, but they are still putting Dittany on their hands afterwards even though they weren't burned.
Harry climbs up the treasure to get the sword instead of Hermione using Levicorpus on him.
The other goblin is killed by the dragon in the movie, but this does not happen in the book. This bothered me because it's played off for humor. We're supposed to be shocked and saddened by the horrors of war later on, but this goblin's death is okay because it's supposed to be funny or because he's a goblin. But we were supposed to feel sad about Dobby dying, and he's not human either, so, yeah, it irked me.
Griphook is shown to have been killed shortly after the robbery in the film. In the book, his fate is never mentioned.
Harry knows that one of Ravenclaw's possessions is a Horcrux because he sees into Voldemort's mind instead of because of what Dumbledore told him about the Horcruxes.
Harry doesn't tell anyone about the Horcruxes in the book, but he tells Aberforth in the movie.
I believe in the book, Neville says they have to practice the Cruciatus Curse on kids who are being punished. In the movie, he says they have to practice on first years. In both cases, he refuses.
Harry voluntarily asks the other students for help in finding Ravenclaw's item in the film, but in the book, he is reluctant until Hermione convinces him.
Harry willingly announces his presence to Snape in the movie, but he is caught in the book. I'm okay with the announcement.
The Slytherins leave the school in the book instead of being sent to the dungeons like they are in the movie.
Younger students (and anyone else who wants to go) are sent through the portrait hole in the book, while everyone of age can fight if they want. In the movie, there is no mention of anyone being sent away, implying that eleven-year-olds are allowed to stay and fight. This also omits Ginny whining about wanting to fight.
You can't Apparate inside Hogwarts. They do it anyway.
Helena Ravenclaw is a lot nicer in the film and her backstory is not explained. She also doesn't look like the other ghosts at Hogwarts. She has color and looks more solid.
The diadem is destroyed by a Basilisk fang in the movie, but it is destroyed by the Fiendfyre in the book.
Percy isn't mentioned to have made up with his family, though this makes sense seeing as the films never made it clear that he had feuded with them.
The film implies that Neville and Luna might end up together, but the powers that be (JKR) have said that they marry different people. Personally, I would rather the two of them be together than with the random people they married in the canon. Their kids would have been cool.
Grawp, the centaurs, and the house-elves do not fight in the film.
Nagini isn't in a bubble to keep her safe in the film. Instead, Voldemort just says he needs to keep her with him.
Snape dies in a boathouse in the movie and the Shrieking Shack in the book. Other than this being a pointless change, it didn't bother me. I didn't even notice on the first viewing.
In the movie, Voldemort uses a spell to slash Snape before letting Nagini bite him. In the book, he just sicks the snake on him.
SNAPE DOES NOT CRY MEMORIES! Ahem, in the book, Snape's memories are coming out of various orifices in his face in the familiar vapory form, so Harry understands what Snape means when he says, "Take it." In the film, Snape is just crying when he says this, so why would Harry think that he wanted him to collect his tears? I don't understand the logic there. They turn all vapory once he puts them in the vial, though.
In the book, Snape doesn't say that Harry has Lily's eyes. I was initially annoyed that he did in the movie, but that was before I realized that he wanted Harry to look at him so he could see Lily's eyes one last time. Now I'm glad they put that line in for dense people like me. A note about Lily's eyes: Dan has blue eyes, so movie Harry has blue eyes too. That's fine, but none of the renditions of movie Lily have blue eyes. They are brown as far as I can remember. Little Albus Severus, however, did seem to have a very similar shade of blue eyes to Daniel Radcliffe. The eye thing doesn't really bother me. It's just funny that they always tell Harry he has his mother's eyes when in the movies, he really, really doesn't.
Harry says goodbye to Ron and Hermione and explains why he has to go die in the movie. Hermione hugs him, and Ron cries. In the book, Harry doesn't want to say goodbye to anyone, and the only person he talks to is Neville, to tell him about the snake in case Ron and Hermione can't kill her. I liked the book version better, but if they wanted to have him say goodbye, why doesn't Ron hug him too? They're best friends, and Harry is about to die. One would think a hug would be warranted in this situation.
This is the smallest little nitpick, but it bothers me. In the book, Harry says, "I am about to die" before kissing the Snitch. In the film, he says, "I am ready to die." Why does this bother me? They imply different things. On his way to the forest in the book, Harry spends a great deal of time dwelling on how he is not ready to die. Plus, being "ready" make it sound less like he's giving into fate, which is how it seems in the book; it also sounds less sacrificial somehow. "About to" has more resignation in it.
Lavender is implied to have died in the film, though her fate is a little ambiguous in the book. It does seem highly likely that she would have died in the book. After all, she did fall off a landing and get mauled by a werewolf (albeit, an untransformed one).
Colin Creevey's fate is never mentioned in the film. He dies in the book (after staying behind when he wasn't supposed to).
Harry isn't naked in King's Cross Station at first in the movie (for obvious reasons). Also, I would like to comment on the really nasty baby soul fragment. They showed that thing too damn much.
Voldemort does not crucio Harry's "dead" body in the film.
Voldemort hugs Draco in the film, which is funny.
Neville makes a speech instead of saying, "I'll join you when hell freezes over" and then chopping off Nagini's head.
Bellatrix doesn't taunt Molly about her children before Molly kills her in the movie.
The Malfoys run away in the film, but they are sitting awkwardly in the Great Hall after the battle in the book.
HARRY DOESN'T REPAIR HIS DAMN WAND! This really irritated me. It would've taken like five seconds to do. I didn't mind him breaking the Elder wand, though. I don't know why he didn't just do that in book. It seems a lot safer than sticking it back in Dumbledore's tomb and hoping no one steals it again. Or kills him for it, for that matter since in the book he has explained to a room full of people how its allegiance is to him now.
What They Did Right
Showing What Other Characters Are Doing
In the book, the first chapter being the exception, if Harry isn't there, we don't get to see it. We may hear about it later, but we don't get to see what's happening. While that's mostly true in the movies, as it probably should be, they show what other people are up to occasionally, even if Harry isn't there with them.
Near the beginning of the first film, they show Hermione wiping her parents' memories, which is pretty sad. She doesn't use obliviate in the book (she says she's never used that spell when they're in the diner), but it's used here for audience recognition most likely. It was nice to see that it's different for her family, being Muggles.
There is also a short scene on the train where Neville tells the Death Eaters who are searching it that Harry is not there. And there's the scene at the end of the first film and the beginning of the first film where Voldemort steals the Elder wand from Dumbledore's tomb, though this could also be explained by Harry being able to see into Voldemort's mind.
The torture scene somewhat falls into this category. Instead of focusing on Harry and Ron in the basement, the film shows more of Hermione actually being tortured, which showcases Emma Watson's acting ability quite nicely, even if it is a wince-inducing scene.
The other notable scene where we get to see what others are up to is when Ron and Hermione go to the Chamber of Secrets. I liked seeing that because the reader wasn't let in on what happened in there in the book, and it was a cool scene in general.
One last scene where they do this is when Neville blows up the bridge (which isn't even mentioned in the book). It looks cool, and it shows that everyone is involved in the battle, not just Harry. Though, I don't know why no one rushed to help Neville up when he fell. They just stared at the end of the bridge, waiting.
Fixing Past Mistakes
Let's see, there's:
Bill
"Hi, I'm Bill, Ron's oldest brother. Fenrir Greyback tore up my face, and I'm engaged to Fleur." Whereas in the novels, Harry met Bill in Goblet of Fire.
Mundungus
Mundungus was never seen before, but now he's been brought by Moody to help with the Seven Potters scheme, and he steals from Sirius.
The Burrow
Even though they (stupidly) burned down the Burrow in the last film, it appears to be fine in Part 1.
Dobby
Dobby hasn't been seen in years in the films (which is lampshaded with something like, "Harry Potter, it has been so long!"), but he's back in Part 1, fulfilling his role.
The Mirror
Since the magic mirror was not given to Harry (onscreen) in Order of the Phoenix, it's odd that Harry keeps looking at this random shard of glass. Then Aberforth explains where it came from, and it is implied that Harry got it from Sirius at some point.
Dumbledore's Past
It's implied that he wasn't that great a guy in his youth during the scene with Aberforth. And Ariana is kind of shoehorned in there as well with Hermione's comment, even though the non-reading audience may have been slightly confused as to how Hermione knew this.
The Kiss
Ron and Hermione kiss in the book because Ron says that they should tell the house-elves in the kitchen to get out of there during the battle. Since there's no S.P.E.W., they kiss in the movie because they just destroyed a Horcrux and escaped being drowned by the angry Chamber of Secrets. The kiss is just as sudden and out of nowhere, so it works.
James Potter Was a Jerk
Even in the Order of the Phoenix scene, it's hard to tell if Snape provoked the attack somehow, but it's more strongly implied in the Prince's Tale scenes that he was a jerk. It could still be shown better, but it's at least there a little bit. Even if you can't tell that he's a jerk, it shows why Snape hated him and, by association, Harry.
The Tale of the Three Brothers
"'And so Death took the first brother for his own.['"]
—"The Tale of the Three Brothers" as read by Hermione Granger, Harry Potter and the Deathly Hallows, page 408
"The Tale of the Three Brothers" was well done and seemed to be read exactly as it was written in the book, complete with Ron's interruption. The animation was a very nice touch, even though I wasn't sure how I felt about it at first; I've since decided that I like it. It was a lot more lively than just listening to Hermione read, and it was nice-looking. The tale is creepily told, and I really enjoyed the whole sequence.
The Prince's Tale
"I have spied for you and lied for you, put myself in mortal danger for you. Everything was supposed to be to keep Lily Potter's son safe. Now you tell me you have been raising him like a pig for slaughter—"
—Severus Snape, Harry Potter and the Deathly Hallows, page 687
Before you start booing, let me explain. I thought this was the best they have done with Pensieve memories in all of the films. They show a few scenes in more detail and give you the gist of the rest. Would I have liked to have seen every little detail? Of course. But that would have taken too long. They got across what they needed too. Snape loved Lily; they were close. Snape got picked on a lot and hated James. James got Lily instead. Snape told Voldemort about the prophecy and then begged Dumbledore for help for Lily. Snape was a good guy all along, always looking out for Harry because he was Lily's son, but still hating him because he was James's son. This part also showed more of how Dumbledore was a lot more morally ambiguous than anyone thought he was. Plus, Alan Rickman got to do actual emotions other than anger and contempt, and he was very good at them.
And yes, they did add a scene where Snape finds Lily's body, but I wasn't overly bothered by this. A similar scene is in the book when Nagini pressed the locket against Harry's chest, but Snape isn't there. It seems like he could have been there, though it seems awfully dangerous to wait around while Voldemort kills someone (he didn't know what would happen to Voldemort when he tried to kill Harry), but maybe he didn't care what happened to him if Lily died. Maybe he had planned to try and save her himself. And though if this did happen in the canon, it may seem odd that Snape didn't include this memory with the others he gave to Harry, but it could have been that this one was simply too personal, and he felt that this memory wasn't needed to make Harry understand why he had done what he had or what Harry much now do. That's why I don't mind this being included in the film.
I do think they should have shown a full scene of James picking on Snape. It could have been made clearer. They also could have shown Lily arguing with Snape about his interest in the Dark Arts.
The Epilogue
"[Y]ou were named for two headmasters of Hogwarts. One of them was a Slytherin and he was probably the bravest man I ever knew."
—Harry Potter, Harry Potter and the Deathly Hallows, page 758
Yes, the epilogue is a bit cheesy (in both the book and the movie), but the movie cuts it down to the basics, and even though that means we don't get to find out what's going on with as many people, it also means that it gets to the point. The point of the epilogue always seemed (to me) to be that everyone was okay, everyone who lived through the rest of the series anyway. It's like, "And they all lived happily ever after. The end." The movie showed that. And it showcased the above quote, which is probably my favorite part of the epilogue too. I believe it also took out the "probably" in that quote, which is good. Don't be so wishy-washy with all this "probably" business, Harry.
Epic
Both of these films, particularly the second, just feel epic. I think that's why I enjoyed them so much. They have this grand scope to them that I really, really liked.
Final Grade: A-
Yes, I gave it an A-. It kept true to the spirit of the book and even added some cool stuff of its own. There was quite a bit left out, but the Dumbledore stuff would have been hard to put in without it seeming shoehorned or like a giant infodump. Otherwise, they adapted things very well. A lot of things that were omitted or diminished were only like that because they weren't in the previous films. So, the way I look at these films is like this: say, you were assigned to build a birdhouse, but the teacher (or whoever) didn't give you all of the materials. Well, this adaptation is like that, except even without everything they needed, the birdhouse still looked pretty good. It makes a great finale, in my opinion, and it got (nearly) all the moments I had been looking forward to. It was either an A- or a B+, and the main reason it got an A- is that it got the feeling and the spirit of the last book really well. And with that, we are done.
So I will miss the train ride in
And the pranks pulled by the twins.
And though it's nowhere I have been,
I'll keep on smiling from the times I had with them.
—Oliver Boyd and the Remembralls, "End of an Era"
"The scar had not pained Harry for nineteen years. All was well."
— Harry Potter and the Deathly Hallows, page 759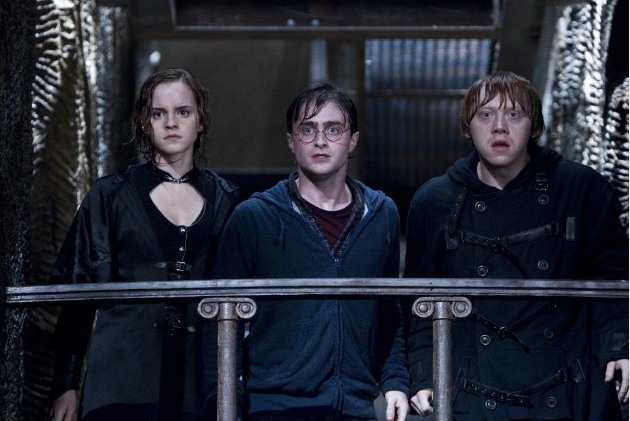 I was kinda annoyed how Snape had to add "You have your mother's eyes" at the end, because I think it's stronger without that (It took me two readthroughs to get it, though)

Anyway, I'm gonna miss these movies.

You did a good job reviewing them, NP.

No One on 19 August 2011, 22:16 said:

The picture of the adult versions of the characters scared the heck out of me. At least I know what to expect when I get around to watching HP7 on dvd.

Good job, NP. :)

NeuroticPlatypus on 20 August 2011, 00:54 said:

I was kinda annoyed how Snape had to add "You have your mother's eyes" at the end, because I think it's stronger without that (It took me two readthroughs to get it, though)

Yeah, I can see that. I didn't get it until I saw something on the internet about him wanting to see Lily's eyes one last time. Before I just thought it was like, "Look at me as a die, Potter." I was oddly fine with that sentiment too.

Anyway, I'm gonna miss these movies.

I'll really miss them too. And the books. But the books have been over for a while, and there was always the next movie, but now there's not. It's sad.

You did a good job reviewing them, NP.

Thanks. :)

The picture of the adult versions of the characters scared the heck out of me.

Haha, yeah they are a little weird-looking.

Good job, NP. :)

Thank you!

BettyCross on 20 August 2011, 09:46 said:

I agree about Emma Watson's performance in DH 1 & 2. She has a great future as an actress. I just hope she doesn't get typecast as a fantasy film character.

Taku on 20 August 2011, 10:51 said:

Emma seems like an intelligent young lady (hahaha). I'm sure she's got a plan, just like Daniel and Tom both have fairly solid plans to avoid being typecast, at the same time as avoiding the pitfalls of Former Child Stardom by remaining culturally relevant and taking new roles and challenges.

Jack Mynock on 25 August 2011, 17:44 said:

I actually prefer Snape saying the line about Harry's eyes. For the movie it works. In the book you have so much more context. You could have already guessed a lot about Snape's feelings toward Lily, so the scene is stronger without the line. That leap is much harder if not impossible to make in the context of the movies (I don't remember if Lily was even included in the "Worst Memory" scene from the OotP movie). The line also serves to start setting up what you're going to learn in the Pensieve scene.

In the book the memories are not pouring from Snape's wounds but rather from his mouth, ears, and eyes. The movie version had the memories come from his eyes only. The tears on Snape's face are silver, or at least I thought they were; it may have just been the way they were catching the light.

NeuroticPlatypus on 25 August 2011, 19:00 said:

I actually prefer Snape saying the line about Harry's eyes. For the movie it works. In the book you have so much more context.

I agree.

(I don't remember if Lily was even included in the "Worst Memory" scene from the OotP movie)

She wasn't. It was a very rushed scene.

In the book the memories are not pouring from Snape's wounds but rather from his mouth, ears, and eyes.

I know. That's why I said this:

in the book, Snape's memories are coming out of various orifices in his face

The tears on Snape's face are silver, or at least I thought they were

Hmm… didn't notice that. I'll look closer at that whenever the DVD comes out.

Jack Mynock on 26 August 2011, 18:01 said:

My mistake. For some reason I read that as the memories coming from Snape's wounds as well as his facial orifices.

Hekateras on 14 September 2011, 09:47 said:

"Why wasn't the battle in front of everyone (I think it being in front of everyone is cooler myself) exciting enough?"

Yes, this. This bothered me quite a bit. The original scene in the book was not just exciting, but wonderfully cinematic. The movie version is kind of… aimless, fragmented and disjointed. Not nearly as satisfying.

"I didn't mind him breaking the Elder wand, though. I don't know why he didn't just do that in book."

I actually thought it was pretty silly. :P 'Destroying' a powerful, dangerous artifact by breaking it up into a few pieces and dropping it into a chasm? OH, SURE, THAT WORKS EVERY TIME! Seriously, don't these kids read fantasy books or fairy tales or something? I'd expect Hermione at least to be Genre Savvy enough to insist on being more thorough about it.

Wonderful review, by the way. :) Very thorough.