An accurate depiction of Eragon's face when he swears and suddenly he shoots fire.
Line courtesy Agony Booth and art style courtesy MSPaint Lolz.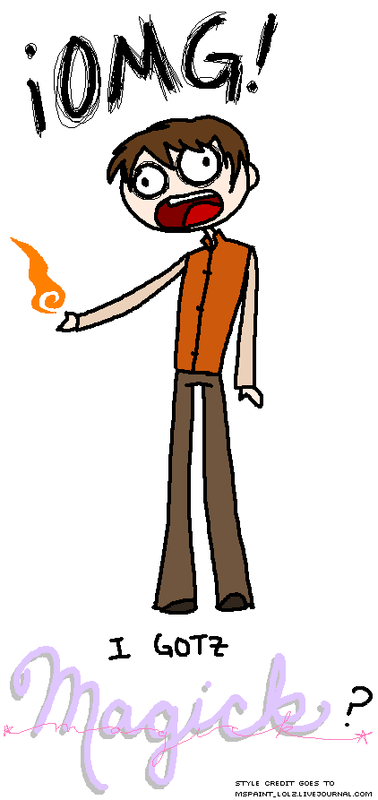 Psh, you forgot the bow.

Its 38 and 2/3 inches long, and the crest has a curvaceous acinaciform that draws the equestrian escutcheon down the back.

Also, the conflagration has a slight amethystine shade on the ventral trough.

How do you not know this?!

P.S. I do not know all these words. All it means is you forgot the bow and the fire was blue.

SlyShy on 4 October 2008, 19:05 said:

Hahaha, nice Kitty. I'd love to see some scenes of the book done in this style. Particularly the scene where Eragon picks up the molar of a dead soldier and plays with it in his palm.

Kitty on 4 October 2008, 19:25 said:

@Virgil: I stopped caring about the details once I got through "wind howled through the night" in the prologue. :B

@SlyShy: I'll do more of these MS Paint atrocities, so that one shall be next. xP

Virgil on 4 October 2008, 19:59 said:

Haha its fine. I was just bored and looked up those in a thesaurus. I'd like to see more Eragon moments in MS paint.

Snow White Queen on 15 October 2008, 11:35 said:

i second that!

Shaleen on 22 February 2009, 16:45 said:

Haha, omg, that's great. There need to be more of these.

Rand on 22 February 2009, 18:12 said:

Wow, you do things I never knew you could with MS Paint.

celeb networth on 16 October 2020, 10:01 said:

I learned a lot from the insight you shared. Thank you!