Hello! I'm sorry I didn't get this up sooner, but I'm here now. I considered writing an essay about a book I read while I was out, but I'm struggling a bit with it, and with everything else going on.
Also! It's Easter. Have a blessed day.
To the sporking!
After quickly telling Hal about who those two guys are, Hal offers to go to the store and pretend to be a customer, so that he could help Atticus in case things get ugly. Atticus, in an out of character moment, says he doesn't want Hal to risk himself as he doesn't know what the deal is with these two guys, but Hal doesn't care because he, along with most of the supporting cast (including the villains!), exist to serve Atticus's needs.
For the same two men to return twice in the same day looking for me at my place of business told me that they didn't know where I lived, and that was perplexing considering how much else they seemed to know about my whereabouts.
It is odd, considering that the first chapter of THIS VERY BOOK indicates that all the gods know where Atticus lives. For all of his talk about paranoia, the very entities that he moved out to Tempe to avoid know his address. It's a little weird that a priest and rabbi apparently can't Google enough to figure it out–heck, they just have to have someone follow him home. He rides his bike. It's not like it'd be difficult to follow him, or ask around the neighborhood, given one of his neighbors loves him and another hates his guts.
And the urgency with which they wanted to see me indicated that they'd completely exploded my dumb-college-boy facade.
Atticus, you exploded your facade. It was a stupid cover, as I described when you brought it up. Atticus expects the average person to believe that a stereotypical stupid college stoner opened his own successful New Age store with an incredibly valuable antique book collection sitting right there in the public eye.
So Atticus gets into the store, dismisses all his employees, and asks what the priest and rabbi want. The Russian rabbi says they want the books, and Atticus tells them they're not for sale. The priest assures them it's for research purposes, to look up information about the occult, but Atticus tells them to go to a library instead.
Then Hal (Atticus's werewolf lawyer, if you've forgotten) walks in.
The rabbi has a freakout the second he sees Hal, and he tries to pull a silver knife out only for Atticus to use his "binding powers" in a way actually related to binding, using his jacket sleeves to hold his arms in place. Apparently, the rabbi could instantly tell Hal was a werewolf, considering he yelled "Die, wolf!" right before he attempts to chuck a throwing knife at the lawyer.
Atticus goes on to bind the arms of the priest as well, and both of their legs.
Hal was understandably upset that a complete stranger had been ready to kill him on sight, but I really didn't want him to get more involved. Gunnar was already steamed at me, and if I got Hal killed, he'd probably eat me like a Lunchable.
…with ham and cheese between two crackers?
Why "Lunchables"? That's not something you snack on if you're above middle school age, and it's not something that makes sense with the imagery of the werewolf. If you'd said "bratwursts" or "bacon" you'd get the same message across and it'd feel more natural to the image. It's like the time in the last book in which Atticus talks about werewolves going "apeshit" when they're made.
Of course, the reason that Atticus went with Lunchables as the food of choice was because it's something distinctly modern and Hearne is convinced that he needs to throw as many references to modern day life into the text as he possibly can. Because Atticus is hip and cool with what the kids are into, right? That's the only way people will read a fantasy book, right?
The Kids These Days: 9
I saw a fan's defense recently, that Atticus's attempts at sounding modern are supposed to be grating, because he's trying too hard to sound like a modern person. I don't buy it, considering how he's lecturing us and other characters about how to fit in, and his inner monologue (of which this is another example) is just as annoying about this kind of thing.
I'm also, y'know, very skeptical of the claim that the protagonist and narrator is written to be deliberately annoying. It sounds like someone's coming up with excuses for a badly-written character. Yes, there are characters that are meant to be annoying (Prince Rhun the first time he appears in Chronicles of Prydain comes to mind), but generally they aren't the protagonist. And if they are, the point is that they get less annoying as the story goes on as character development. In this book and the previous one, if anything, we're told how cool Atticus is for doing this.
"But in later books–" I don't care. If the first two installments of the series aren't complete stories, then I don't know why I should be invested in what happens later. Why should I care what happens later in the series if the first two don't know how to write a compelling character or Plot?
But moving back to the text at hand: it's a bit messed up that when Hal, Atticus's friend, has his life threatened, Atticus's first thought was that if he got killed Hal's boss would be mad at him. It's also silly because we know Atticus could take Gunnar–Gunnar is only a werewolf compared to a Druid, that's not that big a deal. Gunnar being angry at Atticus would only result in a one-sided fight. Although being realistic, Hearne would probably have Atticus talk him down and Gunnar would apologize for being so inconsiderate or something.
So Atticus pretends he doesn't know Hal as an excuse to get him out of the store, dismissing him and offering to help him some other time. Hal silently agrees and leaves. Atticus tells the priest and rabbi that they're horrible customers and tells Father Gregory, "What would Jesus do?"
Quivering impotently and with flecks of spittle forming on his lips, he bellowed, "He'd rain fire down upon you for consorting with minions of hell!"
Ah, yes, Hearne only knows how to write angry villains one way: as rabid, frothing-at-the-mouth maniacs. Seriously, with how Father Gregory has been written up until now, he doesn't seem to be the type who would start screaming and cursing the second he's captured. Yeah, he could be angry, but there are other ways of expressing anger. Of course, the reason he's like this is just like why Brighid was written the way she was in Chapter 14–so that Atticus can look reasonable by comparison.
Also, the word 'hell' should probably be capitalized if he's referring to the place in Christian mythology.
"Whoa, slow down, there, Father. I think you've made several giant leaps of logic and faith and I'm not following. First, I don't know any minions of hell.
Again, 'hell' should be capitalized. It's an actual location/realm in this universe, guys.
Second, I don't consort with anyone, because I'm not fond of that word. And third, have you ever actually talked to Jesus? Because I have, and he's not really a rain-fire-down-upon-bookstores kind of guy, just so you know. Now, who are you guys, really?"
[rubs forehead] I just know I'm really going to hate it whenever this series gets to depicting Jesus, aren't I?
The "consort" thing is a running joke from the last book, in case you didn't catch that.
Part of why this doesn't land, this whole, "Why do you think I'm evil? I don't hang out with demons!" thing from Atticus, is because regardless, he's still a garbage person who will happily kill bystanders, or let bystanders be murdered by his friends, and hangs out with incredibly suspect supernatural beings. Sure, the Morrigan isn't a demon from Hell, but she's a violent immortal murderer and rapist who he never deters from her more heinous acts. One of his friends is a vampire who kills people for the crime of using hammers, and has his own cleanup crew of ghouls on speed dial. Let's not forget that the beginning of this book has Atticus giving Leif tips to prey on college girls!
Just imagine, if you would, a remorseless criminal being put on trial, known for associating with murderers, rapists, and drug dealers, and his defense was something like, "Why are you being so mean to me? I'm a good person! I don't hang out with Nazis, after all!" You don't come across as anything close to a good person! At BEST, you get a "Not as Big a Villain as You Could Have Been" sticker.
The Rabbi Yosef tells Atticus he has no idea who he's dealing with, and Atticus is all like, "Yeah, that's why I'm asking," once again proving he needs a good smack across the face with an artillery shell. The rabbi's beard is moving though, and Atticus mentions that, asking if he has "some roaches living in" the beard, and it stops moving.
He goes to pick up the knife that the rabbi dropped. There's an engraving on it representing the Kabbalistic Tree of Life image,) which I doubt Hearne understands other than, "Here is an image from Jewish tradition with magic associations." To be fair, I don't understand the Kabbalistic Tree of Life either, but it seems a very odd thing to put on a silver weapon meant for killing monsters. It's more suitable for something like, say, mysterious doors to the room where you meet God.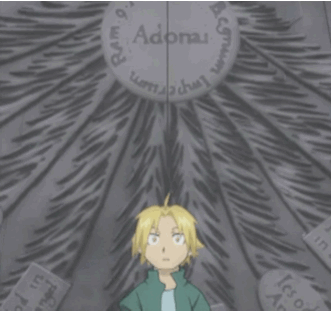 The voice coming out of the rabbi's beard tells Atticus that he can keep the knife if he lets the two men go, and to think of it as a gift. Atticus replies that his mother "told me to beware of hairy men bearing gifts" and Father Gregory corrects the actual expression ("Greeks bearing gifts," a mythology reference), because Hearne thinks we won't get the joke otherwise, I guess. Even if you don't know the original expression (and who doesn't?), the joke stands fine on its own. It'd be mildly amusing if it wasn't in this book.
Hey, do you remember that throughout the last book, there was a running thing of how Atticus refused to tell his even closest friends how old he is? And the hints he gave were only when he slipped up? Cool, we're throwing that out the window because he says here:
"My mom didn't know the Greeks existed," I told him. "She was worried about cattle raiders coming out of what is now County Tipperary."
You Keep Using That Word: 22
Father Gregory claims that the reference to cattle raiders ages him to before Saint Patrick's time. Does it? Someone who knows Irish history, tell me. It's certainly not a pre-Christian phenomenon everywhere. We definitely had cattle raiders in the United States. Maybe we still do! I also know that there's the famous one from Irish mythology, but are we expected to believe that Saint Patrick did his thing and then all cattle raids in rural Ireland just… stopped? According to Wikipedia they went on well into the Enlightenment era.
Did Not Do Homework: 14
Atticus's reply is "Well you claim to know everything about me, but do you know why kids love Cinnamon Toast Crunch so don't you know this already?" Whatever, he's an idiot. He investigates the knife, wondering if the magic of his store could overcome the magic of this knife. His wards are designed for faeries, demons, and witches, rather than Kabbalistic magic. He's met Kabbalists before, but he's never found them antagonistic so he didn't see the need.
Hey, wait, there's this kind of magic he's run into before, but because he's never had to fight it, he's never considered having to do so and not put that into account when designing his magical protections? Yeah, this guy's so paranoid, am I right?
You Keep Using That Word: 23
You know how Batman always keeps a piece of Kryptonite around, usually in a lockbox somewhere? Imagine if he didn't do that, because "Well the only Kryptonian I know is Superman, and we're buddies! Why would I need that?"
He has some level of caution though, because he assumes the rabbi wants him to touch the knife because it's magically booby trapped or something. He deactivates the magic by…. I don't know, the text says that he "expanded my definition of magic to include the Kabbalistic Tree of Life" when adjusting his shop's magic wards and then the magic on the knife just… breaks down, I guess?
Make It Easy!: 15
So he picks up the knife, the rabbi is shocked that nothing happened to him, and asks to sit and talk things out. The rabbi spits out in Russian that they shouldn't trust him.
It's a bit weird that in this book, where there's a Catholic priest and Jewish rabbi, that Hearne is making the rabbi into the overt intolerant religious fanatic of the two.
Father Gregory says that the rabbi has a temper, yes, but he did nothing wrong in attacking a werewolf because "Werewolves must be slain on sight!" This leads Atticus to ask why.
Also the rabbi is struggling to get out of his bonds and Atticus finds this hilarious. Just… reminder that's going on, and I'm uncomfortable with Hearne creating a Jewish character just to be laughed at as an incompetent villain.
"Werewolves are abominations of nature. Nearly every religion acknowledges this."
I suppose, considering that in this universe, the Roman Catholic Church killed all the Druids, its history is a bit different from real-world history. Still, as a Catholic, I want to know where in the Catechism it says that we should kill werewolves. I don't remember any homilies on it in Mass (and I've heard some weird homilies at times). There are rules about witchcraft and the occult, but werewolves? No, we don't really have a rule about them.
Did Not Do Homework: 16
Actual fun fact for you: Saint Thomas Aquinas didn't believe becoming a werewolf was A Thing, as seeing someone turn into a wolf must be some sort of demonic illusion. The more you know!
Also, a random thing my research led to: someone wrote a historical murder mystery novel in which Saint Thomas Aquinas and his teacher Saint Albert the Great investigate werewolf murders? I haven't read it yet, so I can't speak to its quality, but that premise makes it sound like it could be AMAZING in a B-movie sort of way.
Back on point though: as far as I know, most religions don't really have rules on werewolves. There is the general belief that werewolves are demonic, or cursed, or the result of some kind of witchcraft, so yes, I understand that historically speaking, Christianity and lycanthropy have not had a great relationship. But it's not a core tenant, to believe that werewolves are by nature evil, and in a world where werewolves are actually A Thing, I don't know if this idea would pop up.
[YES, I know about the Hounds of God story, don't yell at me.]
Also, what other religions have had this relationship with lycanthropy? Father Gregory says that "Nearly every religion" has a thing against werewolves. Uh, citations please? Yeah, werewolves exist in non-Christian folklore, but this belief that they're necessarily evil? I'm not super-versed in Judaism, Buddhism, Hinduism, Sikhism, Islam, Native American traditional religion, Bahai, Neopaganism, Wicca, or Zoroastrianism, but I really don't know of any rules or history they have regarding werewolves. I don't think most of them even have hard rules, considering most believers probably don't think werewolves exist.
Atticus asks him how he feels about vampires, and of course Father Gregory says that they kill them too. And then he asks witches, and they "do not suffer them to live!" And we're supposed to see Father Gregory and Rabbi Yosef as being religious nuts, but let's look at the facts: the one vampire we know kills people for using hammers and Atticus himself is constantly talking about how he should kill the witches. And witches in this universe very often gain their powers by making deals with demons. The good coven in this story only worships Slavic goddesses, sure, but Laksha explicitly says she has pacts with demonic beings, and Atticus seems to find this pretty normal for witches.
Atticus then asks what they think of him, and basically Father Gregory says that they seem to consider him a holy man who has somehow broken his calling by using demonic powers. Apparently they are under the impression that Druids are a type of priest–which to be fair, they ARE in real life, but again, in this series a Druid is just a type of magic user who is connected to the Earth.
Atticus asks about the demonic powers thing, and basically it's that they've somehow picked up that in the climax of the last book, someone using Druid magic opened up a portal to Hell, and Atticus was there. Of course, we know that it was Aenghus Og who opened the demon, and Atticus tells them he killed all the demons, along with the fallen angel earlier in this book. The priest is terrified that Atticus was able to kill a fallen angel, and the rabbi says in Russian that he thinks Atticus is lying because he can't be that powerful.
Well, I'm strong enough to render you impotent, I thought.
It ALWAYS comes back to sex with this guy, doesn't it? I also think that threatening to make an elderly man in the religious life impotent is not actually as big of a deal as Atticus thinks, unless he's also as big of a perv as Atticus.
Rewinding a bit: Father Gregory's going through that thing where Hearne can't decide what a guy's feeling in this scene. His emotions are across the board, just so Atticus's reactions can be reasonable and awesome by comparison. He's deceitful when he appears, then he's bound and he's frothing-at-the-mouth furious, then he's talkative but seething, and then he's terrified and completely cowed. The dude's emotional state changes from one line to the next, because Hearne doesn't actually develop him as a character as much as assign him an emotion based on what makes Atticus sounds better.
Right, so Atticus tells them to get lost and never come back, because when it comes to Hell, they're on the same side, right? He asks them if they're satisfied, and Father Gregory agrees, but Rabbi Yosef breaks free and tries to do a Hebrew spell or something? Again, I'm fairly certain this isn't how Kabbbalistic magic works, but I'm not an expert. It reads more like the rabbi picked 'Jew' as his RPG class in the South Park video game.
Of course, because Atticus [checks text] right, "expanded my definition of magic to include the Kabbalistic Tree of Life" when he reset his wards, this spell does absolutely nothing. Atticus lets the priest leave, but keeps Rabbi Yosef around to talk for a little bit.
Atticus tells the rabbi that he thinks he's the type to hold a grudge, and Yosef responds by saying that he knows Atticus is the type to associate with creatures like vampires, werewolves, and witches, and so he'll one day be coming to kill him. Not because of a grudge, but because it's his job. Atticus shoots back that he thinks Rabbi Yosef is a douchebag, and that the rabbi is a self-righteous extremist who wants to pick a fight with him when all Atticus wants is to be left alone. Then he lets the rabbi go.
Again, is it just me, or is it really, really weird that out of these two, the Catholic priest and the Jewish rabbi, that Hearne decided to make the Jewish rabbi the one who is more of the violent extremist? Is it not weird to anyone else that Hearne sat down and said, "One of the antagonists in my book is going to be a crazy aggressive Jewish guy?" This doesn't seem to fit into any antisemitic cliches or conspiracy theories that I've heard of (though I want to iterate that it's not a rabbit hole I'm too familiar with, by the grace of God), so I'm not pinging it as overt discrimination, but it is strange, isn't it?
This all goes into something I think about a lot.
I've long had trouble with religious fanatics in most popular fiction. Again, full disclosure: I'm religious. But what bothers me isn't that I find it an offensive stereotype, like, "Oh no, how dare you say this about religious people!" No, it's mostly that in pop cultural settings, religious fanatic villains act in ways that are plain nonsensical. For instance, in Mike Mignola's Baltimore comics, there's an Inquisitor who goes around being evil for no discernible reason. He doesn't torture people to make them confess sins or as a penance, he outright mutilates people to death, cutting off limbs and plucking out eyeballs to "purify" people. The "Siege of Paris" DLC of Assassin's Creed: Valhalla has a group of fanatical Christians who do this thing called "deliverance" (in a goofy French accent) where they just ritually sacrifice people and then cut up the bodies. Why they do this is never explained, other than that they're evil maniacs.
There's a critique I see sometimes about writing insane villains, that the writers often don't give comprehensible motivations to these characters and instead just say, "This guy's CRAZY!" to handwave any irrational behavior. That's what writers tend to do with religious fanatics, too. You just stick the label "religious fanatic" on a villainous character, and you don't have to write any motivations. How religion informs their villainous actions, or how the character rationalizes this behavior when it seems to go against the tenants of his or her religion–those aren't gone into. "This person is just insane," the writers say. "Because religion."
It's even more frustrating here in Iron Druid Chronicles, because… I mean, in a world with vampires, evil faeries, witches, and demons running around, it is absolutely an understandable position to be a religious person who is "fanatically" against the supernatural. We've gone over this, but–there are vampires running around, and we have yet to get any actual good examples of that. We don't know that the werewolves murder people, but they're clearly dangerous, and one of them is a doctor who falsifies medical reports to get what he wants. The "good" witches in the book are still using magic to take advantage of people and make themselves rich. And we're often told that evil witches associate with demons for power, and the demons we've seen blight the Earth and munch on kids. Faith-based magic like Kabbalism apparently works, and those with enough faith can call on figures like Mary to bless weapons against demons. Maybe they wouldn't be right on all counts, but from the perspective of an average religious person? This isn't a bad position to hold. Certainly someone should be defending humanity against the forces of the supernatural, after all.
It's certainly more legit than Atticus, a man supposedly dedicated to protecting the Earth, and yet he still hasn't shown any sign of when he plans to clean up that demonic blight from the end of the last book, nor does his supposedly sacred duty stop him from associating with beings who happily murder humans on a whim. We're supposed to see these two guys as unfairly persecuting Atticus because they assume he's friends with demons, but his friends are all happily murderers, rapists, thieves, and cannibals. Again, this is like saying, "It's fine! At least they're not Nazis!"
[sigh]
Anyhow, Atticus closes the store, grabs the ingredients that Malina needed, and updates the wards against Kabbalistic magic. He suspects that the two guys were from a zealous religious organization (no DUH) and that Rabbi Yosef might be watching his shop. So he escapes through a trapdoor on the roof, turns into an invisible owl and flies off. To his credit, he does check to make sure he isn't being followed. Then he goes home.
He makes dinner for himself and Oberon, he calls Hal to look into the priest and rabbi's organization, and he updates his house wards to protect against Kabbalists. And that's the end of the chapter.
Hey, it's really crazy that when he adapts his magical defenses to a new system of magic, he just has to… rewire it, I guess? He does specify that doing it for the shop takes up three hours of his time, but it isn't as if he doesn't know how to do it, or that it requires special ingredients or anything. And it takes literal seconds to do it enough to disable a magical weapon like the silver knife and the rabbi's spell.
Make It Easy!: 17
It doesn't cost Atticus anything to reset his magical defenses against a completely different form of magic! One that he's never fought before! It costs him time, but not actual time to us, because it's handwaved for the reader. It's not as if that time cost him anything–we don't find out later that while he was fixing his magical defenses, something important happened that he could have been dealing with. It's just another thing he can just do because he's too powerful. The biggest difficulty he actually has in this chapter is that when he turns into an owl, he has to leave his clothes behind at the store.
We all realize this is a problem, don't we? That a new enemy shows up and threatens Atticus with a type of magic he's unfamiliar with, and he just deals with it and moves on! Rabbi Yosef and Father Gregory are quite obviously set up for a subplot, one that isn't resolved in this book, making this feel like a waste of time. It's like the Coyote and fallen angel side quest–chapters that should be spent on developing the Plot is spent doing something with characters Hearne wants to use in later books.
We are about halfway through Hexed, and how much do we know about the actual antagonist of the book? They're a group of German witches. That's it. What they really want, who are the members of the coven–Hearne doesn't care! It's not like there's going to be some hack twist that some character we've already met is actually one of the evil German witches, it's going to be cheaper than that! They're going to appear without proper introduction and we're meant to care as if we have any idea who these people are. Instead of building an interesting conflict, once again Hearne is having Atticus dick around until someone bothers him, except this time the conflicts that pop up are even less relevant because they're not sent by the main villain.
Half of this book is setup. Religious fanatic organization, Coyote's presence, the maenads, Laksha's price of golden apples from Asgard? None of it actually matters right now. Half the novel is wasting our time with promises of what's yet to come in a later book somewhere down the line.
Just think about that until next time.
Better Than You: 9
Did Not Do Homework: 14
The Kids These Days: 9
You Keep Using That Word: 23
Make It Easy!: 17
LAUGH, DAMNIT!: 25
Hearne is convinced that he needs to throw as many references to modern day life into the text as he possibly can.

Because that will totally not date this book at all.

"But in later books–" I don't care. If the first two installments of the series aren't complete stories, then I don't know why I should be invested in what happens later. Why should I care what happens later in the series if the first two don't know how to write a compelling character or Plot.

Yes, thank you. That's a common defense that I see of lousy books that are in a series. The first book's purpose is to introduce me to the characters and their world, and if it doesn't do its job properly, then why should I care about what happens later, unless I read the books out of order? Yes, a character can grow and change over the course of a series, but if they're so unlikable right off the bat, then why should I become invested in their journey?

it's a bit messed up that when Hal, Atticus's friend, has his life threatened, Atticus's first thought was that if he got killed Hal's boss would be mad at him

Well, I guess that selfish self-preservation sounds less 'lame' and 'sappy' than Atticus admitting that he actually cares about Hal as a friend, so, yeah, let's go with that.

Imagine if he didn't do that, because "Well the only Kryptonian I know is Superman, and we're buddies! Why would I need that?"

But it would be more understandable in that case because Krypton exploded. And it would be even understandable if it was during a time before Batman knew about the existence of Supergirl or Zod, etc. There are plenty of Kabbalists running around, but Atticus never bothered to check them because he's a lazy idiot.

There is the general belief that werewolves are demonic, or cursed, or the result of some kind of witchcraft

I think that it would make more sense if it was said that werewolves were portrayed negatively in almost every culture, because that tends to be true.

But it seems that Hearne missed a golden opportunity here. Because in order to counter the priest and the rabbi, Atticus could have brought up the wulver from Scotland and the faoladh (a.k.a. werewolves of Ossory) from Ireland: https://folklorethursday.com/halloween/werewolves-that-fish-and-fight-in-battles-the-scottish-wulver-and-irish-faoladh-in-folklore/. Not only because, as folklorists have noted, they are a noticeable exception to typical European depictions of werewolves, but because, well, Atticus is Irish. So, he of all people would've known or heard about them.

all Atticus wants is to be left alone

Yeah, to be left alone and not help the people who need it, even though it's his job.

How religion informs their villainous actions, or how the character rationalizes this behavior when it seems to go against the tenants of his or her religion–those aren't gone into.

That was the same problem that I had while reading a short story about the ghost of a priest who was being haunted by the ghost of a little girl. In life, the priest had been obsessed with building and completing a cathedral. The reader is shown his diary entries, where he falls deeper and deeper into anxiety and despair as he wonders if he will ever be able to finish the cathedral before he dies or whether it will be perfect enough to be a worthy monument to the glory of God. The little girl had been a member of a group of homeless people who lived around the outskirts of the construction site for the cathedral. And it's strongly suggested early on that the reason why the little girl is haunting the priest is because he was responsible for her death.

So, the idea that I was forming as I was reading the story is that the priest caused her death through negligence. He was so obsessed with the outward appearance of piety (the cathedral) that he became blinded to actual piety (charity to the poor). In my mind, he would've been pushing the workers to hurry up and ignored any concerns about safety regulations or potential hazards. In that scenario, the little girl would've died from a falling beam that hadn't been secured properly after she wandered too close to the construction site. And that would've been why she was haunting the priest and why he was so consumed by guilt.

But no. Instead, the actual story decided that the priest was so obsessed about completing the cathedral on time…that he made a bargain with a demon and deliberately lured the little girl away so that he could sacrifice her to the demon in order to get the cathedral done. I was just…what? Where did that come from? He wants to build a monument to God, so he'll make a bargain with an enemy of God and murder a little girl? How on earth does that make sense? It was at that moment that I realized, "Oh, so he's not a religious fanatic who went too far in the sense of valuing material things over people's lives and safety. No, he's just crazy." What a letdown.

Faranae on 13 April 2023, 10:24 said:

Someone who knows Irish history, tell me. It's certainly not a pre-Christian phenomenon everywhere. We definitely had cattle raiders in the United States. Maybe we still do! I also know that there's the famous one from Irish mythology, but are we expected to believe that Saint Patrick did his thing and then all cattle raids in rural Ireland just… stopped?

Wikipedia is right, although I think less reported bits of raiding went on even into the 1800s. There's other problems with what Atticus says beyond that – it's not how an Irish person thinks about the geography of Ireland, and he's picked the wrong county on top of that because prior to the Norman establishment of the county system (1328 – Ireland knew about Greece by then), Tipp was two regions within the Kingdom of Munster. But firstly, she would have been thinking of the clan rather than the place who did the raiding. Second, the place wouldn't be as large as a county. Hearne should talk to Irish people. They don't say they're from County Clare, they say the precise townland that they're from, and they know you for foreign if you don't know where that is! This bit is a reminder about Atticus being Irish in the same way the Lunchables thing is supposed to tell us he's "modern".

I've heard some weird homilies at times

I was drinking coffee!

Father Gregory says that "Nearly every religion" has a thing against werewolves.

Did not get a mention in my East Asian Religions seminar. Perhaps it slipped the mind of the Tibetan Buddhist monk who taught that course? A number of First Nations religions have shapeshifters generally speaking, but for a lot of them, those are good guys.

How religion informs their villainous actions, or how the character rationalizes this behavior when it seems to go against the tenants of his or her religion–those aren't gone into.

We're talking about Hearne, who has his Irish probably-IRA granny character attend weekly Mass drunk. Of course he trades in lazy stereotypes and paper thin villains.

Juracan on 14 April 2023, 06:41 said:

Because that will totally not date this book at all.

I notice that a lot of authors who are desperately trying to be "hip" don't really consider this.

Well, I guess that selfish self-preservation sounds less 'lame' and 'sappy' than Atticus admitting that he actually cares about Hal as a friend, so, yeah, let's go with that.

Again, Hearne is so scared of Atticus being earnest that the times that he tries it don't feel like they're earned. Very rarely he'll go off on a tangent about how he's lonely because he's immortal, except in all of his general interactions with the rest of the cast he hardly seems to care about them. It feels fake.

But it would be more understandable in that case because Krypton exploded. And it would be even understandable if it was during a time before Batman knew about the existence of Supergirl or Zod, etc. There are plenty of Kabbalists running around, but Atticus never bothered to check them because he's a lazy idiot.

Mm, true, but at the same time, even before other Kryptonians show up, generally speaking, there are SO many forms of mind control in the DC Universe, so I feel as if packing Kryptonite would still be justified.

Either way, it's still really stupid on Atticus's part for a so-called "paranoid" person.

But it seems that Hearne missed a golden opportunity here. Because in order to counter the priest and the rabbi, Atticus could have brought up the wulver from Scotland and the faoladh (a.k.a. werewolves of Ossory) from Ireland: https://folklorethursday.com/halloween/werewolves-that-fish-and-fight-in-battles-the-scottish-wulver-and-irish-faoladh-in-folklore/. Not only because, as folklorists have noted, they are a noticeable exception to typical European depictions of werewolves, but because, well, Atticus is Irish. So, he of all people would've known or heard about them.

This is… a good point. I feel bad that I forgot about wulvers. And as you pointed out, he should be fully aware of those.

But that requires Hearne doing research.

But no. Instead, the actual story decided that the priest was so obsessed about completing the cathedral on time…that he made a bargain with a demon and deliberately lured the little girl away so that he could sacrifice her to the demon in order to get the cathedral done. I was just…what? Where did that come from? He wants to build a monument to God, so he'll make a bargain with an enemy of God and murder a little girl? How on earth does that make sense? It was at that moment that I realized, "Oh, so he's not a religious fanatic who went too far in the sense of valuing material things over people's lives and safety. No, he's just crazy." What a letdown.

UGH that sounds exhausting. I bet you that Hearne would find it a masterpiece, though. Again, I'm not asking that every religious character be a model of virtue, but it's so common to have religious villains be presented as "just crazy", and it's handwaved because neither the writer nor much of the audience has much understanding of/sympathy for religion.

Wikipedia is right, although I think less reported bits of raiding went on even into the 1800s. There's other problems with what Atticus says beyond that – it's not how an Irish person thinks about the geography of Ireland, and he's picked the wrong county on top of that because prior to the Norman establishment of the county system (1328 – Ireland knew about Greece by then), Tipp was two regions within the Kingdom of Munster. But firstly, she would have been thinking of the clan rather than the place who did the raiding. Second, the place wouldn't be as large as a county. Hearne should talk to Irish people. They don't say they're from County Clare, they say the precise townland that they're from, and they know you for foreign if you don't know where that is! This bit is a reminder about Atticus being Irish in the same way the Lunchables thing is supposed to tell us he's "modern".

He does say, "what is now" meaning he recognizes that the county didn't exist yet, but it did sound weird to me. I assumed it was an Irish thing, but I'm not at all surprised to find out that it's not. In any case, saying he's older than the counties of Ireland is still a clue as to his age, and he's supposed to be cagey about handing those out.

Ancient Ireland had kingdoms, didn't it? Wouldn't it probably be more accurate for him to be referencing ancient kingdoms recorded in mythology? He does that in the last book when talking about how he got the magic sword.

Did not get a mention in my East Asian Religions seminar. Perhaps it slipped the mind of the Tibetan Buddhist monk who taught that course? A number of First Nations religions have shapeshifters generally speaking, but for a lot of them, those are good guys.

It's a very strange assertion to make? And you'd think that a priest member of an inter-religious organization dedicated to dealing with the supernatural would be aware of these things?

We're talking about Hearne, who has his Irish probably-IRA granny character attend weekly Mass drunk. Of course he trades in lazy stereotypes and paper thin villains.

To be clear, I'm not at all surprised that Hearne uses lazy stereotypes instead of interesting and well-written characters. But it's kind of my job here to point them out.

And it still sux.

[Also, now I'm reminded that the IRA granny-leprechaun is meant to be a tribute to a dear relative of Hearne's or something.]